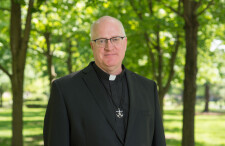 NOTRE DAME, Ind. -
Rev. William M. Lies, C.S.C., was elected as the new Provincial Superior of the
Congregation of Holy Cross, United States Province of Priests and Brothers
,
by the Provincial Chapter in Wilkes-Barre, Pa., on Thursday, June 14.
As Provincial Superior, Fr. Lies will oversee the work and welfare of more than 500 priests, brothers and seminarians in the U.S. Province. He succeeds Rev. Thomas J. O'Hara, C.S.C., who served as Provincial Superior for six years.
The U.S. Province carries out the vision of founder Blessed Basil Moreau to make God known, loved and served through higher education, parish and other ministries throughout the United States. In addition, the Province has apostolates and missions in East Africa, Chile, Peru, Mexico, and Bangladesh.
The Constitutions of the Congregation of Holy Cross give the Provincial Superior authority over all members and houses in the Province. He is elected by at least two-thirds vote of the Chapter and confirmed by the Congregation's Superior General in Rome, Rev. Robert Epping, C.S.C. The term of the Provincial Superior is six years.
A native of Little Falls, Minn., Fr. Bill was born on July 4, 1962, and is one of ten children. He has a twin brother, Jim, who is also a Holy Cross priest. Fr. Bill earned his bachelor's degree in English with minors in French and Philosophy from Saint John's University in Collegeville, Minn. He entered the Congregation of Holy Cross on August 15, 1988, professed First Vows on August 12, 1989, received his M.Div. degree from the University of Notre Dame and took Final Vows on August 28, 1993. He was ordained to the priesthood on April 9, 1994.
Fr. Bill also received his doctoral degree in Latin American Politics from the University of Pittsburgh. His research and teaching has focused on human rights, religion and politics in Latin America, and the politics of poverty. He has given talks and lectures throughout the country, and serves on a number of related domestic and international boards. In 2013, Fr. Bill received Catholic Charities U.S.A.'s "Keep the Dream Alive" award that honors Dr. Martin Luther King, Jr.
Prior to his election, Fr. Bill was Vice President for Mission Engagement and Church Affairs at the University of Notre Dame, a role he began in March of 2012. He formerly served as executive director of the Center for Social Concerns (2002-2012) at Notre Dame, and taught in the Department of Political Science. He is a fellow of both the Joan B. Kroc Institute for International Peace Studies and the Kellogg Institute for International Studies.
As Vice President for Mission Engagement and Church Affairs, Fr. Bill assisted in deepening the conversation across the academy on issues of importance to the Church. He was also the liaison for Notre Dame to the Congregation of Holy Cross, the U.S. Bishops, the USCCB and its affiliates, the Holy See, and oversaw the Tantur Ecumenical Institute in Jerusalem
.