Brian Kennedy, C.S.C., 29
Year in Formation: Transitional Deacon
Hometown: Pequot Lakes, Minnesota
Job/ministry placement: St. John Vianney Parish, Good Year, AZ
What college did you attend: University of Notre Dame
What was your major in college? History & Philosophy
Patron Saint: St. Francis of Assisi
Top books: Laurus by Eugene Vodolazkin
Top musicians in your playlist: Lord Huron, Elliott Smith, The Decemberists
Most memorable liturgy you have attended: The canonization Mass of St. Andre Bessette - our first Holy Cross saint!
Hobbies: Calligraphy, iconography, computers (GNU/Linux)
Place in the world you'd most like to visit: The Holy Land
Favorite way to pray: The Jesus prayer: "Lord Jesus Christ, Son of God, have mercy on me, a sinner."
What drew you to Holy Cross? The educational apostolate and vibrant community life.
What is your favorite quote from Scripture: "When I thought, "My foot is slipping," your steadfast love, O LORD, held me up. When the cares of my heart are many, your consolations cheer my soul." Psalm 94
---
Karl Romkema, C.S.C., 27
Year in Formation: Transitional Deacon
Hometown: Clarkston, Michigan
Job/ministry placement: St. Ignatius Martyr Parish in Austin, Texas
What college did you attend: Holy Cross College and the University of Notre Dame
What was your major in college? Philosophy and Theology
Patron Saint: St. Joseph
Top movie: Silence, The Lion King
Top musicians in your playlist: Queen
Most memorable large gathering: Mass at St. Ursula's Special School in Uganda, because it was the most genuine form of worship I have witnessed.
Hobbies: Rock climbing and making rosaries
The place in the world you most want to visit: Montserrat, Spain
What drew you to Holy Cross? The Old College program, the wonderful community of Holy Cross, and the spirituality and apostolic vision of Bl. Basil Moreau
What is your favorite quote from Scripture? "Deep is calling on deep." Psalm 42
---
Brogan Ryan, C.S.C., 32
Year in Formation: Transitional Deacon
Hometown: Columbus, Ohio
Job/ministry placement: Rector, Keough Hall at the University of Notre Dame
What college did you attend: University of Notre Dame
What was your major in college? Accounting, Education
Patron Saints: St. Peter, St. Christopher, St. Joseph
Top movies: A River Runs Through It
Top musicians in your playlist: Coldplay, U2, Gaelic Storm
Most memorable liturgy you have attended: Feast of the Uganda Martyrs in Naamagongo Uganda in 2015. Two million Christians gathered together to celebrate the faith of the Church in East Africa
Hobbies: Racquetball, swimming, gardening
The Place in the world you most want to visit: Ireland, The Camino in Spain, The Olympics
Favorite ways to pray: Lectio Divina with the daily readings
What drew you to Holy Cross? I was drawn to Holy Cross by my relationships with different Holy Cross religious. I continue to be drawn by the community and the different ministries Holy Cross is involved in.
What is your favorite quote from a Saint? "Be who God meant you to be and you will set the world on fire." St. Catherine of Siena
---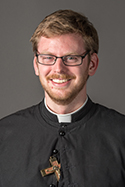 Michael Thomas, C.S.C., 28
Year in Formation: Transitional Deacon
Hometown: South Bend, Indiana
Job/ministry placement: St. George's College, Santiago, Chile
What was your major in college? Political science, philosophy
Patron Saint: St. Edmund Campion
Top movies: The Mission; Goodbye, Lenin!
Top books: The Brothers Karamazov, The Power and the Glory, Torture and Eucharist
Top musicians in your playlist: The National, Arcade Fire, Andrew Bird, Iron and Wine, Bon Iver, the Head and the Heart
Hobbies: Reading, listening to music, exploring
Favorite way to pray: Lectio Divina, Centering Prayer
What drew you to Holy Cross? I was drawn to Holy Cross by the holiness and the happiness of the Holy Cross religious and seminarians that I knew - I wanted to join that life! The emphasis on community life and on the mission of education were also powerful draws.
---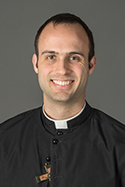 Bryan Williams, C.S.C., 27
Year in Formation: Transitional Deacon
Hometown: Houston, Texas
Job/ministry placement: Campus Ministry at Stonehill College
What college did you attend: University of Notre Dame
What was your major? Philosophy
Patron Saint: St. Hallvard
Top movie: Kelly's Heroes, Creed, Cars
Top books: Confessions and anything by Flannery O'Connor
Top musicians in your playlist: Turnpike Troubadors, Mali Music, El Perdón (Nicky Jam)
Most memorable liturgy you've attended: Holy Cross Ordinations
Hobbies: Soccer, running, bbq
Place in the world you'd most want to visit: Luckenbach, Texas
Favorite way to pray: Liturgy of the Hours
What drew you to Holy Cross? I was drawn to Holy Cross by the familial focus of life in the community, the joy of the men in all of the communities, and the many ministries in which the communities serve.
What is your favorite quote from Scripture? "If the Lord does not build the house, in vain do its builders labor. If the Lord does not watch over the city, in vain does the watchman keep vigil. In vain is your earlier rising, your going later to rest, you who toil for the bread you eat when He pours gifts on His beloved while they slumber." Psalm 127:1-2