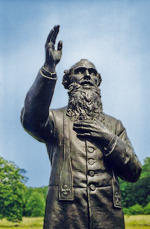 In 1861, Fr. William Corby, C.S.C., left Notre Dame to join the Irish Brigade during the Civil War. He was one of seven Holy Cross priests who joined the military to serve as chaplains. The chaplains held no rank and they received no pay. On the second day of the battle of Gettysburg, the casualties were heavy, and Fr. Corby proposed that he give the men a general absolution. Although general absolution was given during many of the battles of Europe, this was the first recorded instance of it being done in the United States. Maj. Gen. St. Clair Mulholland, who was present that day, recorded that as Fr. Corby pronounced the words of absolution, every man, Catholic and non-Catholic, knelt and bowed his head. The atrocities that Fr. Corby witnessed during his army service would stay with him for the rest of his life, and would also leave a deep mark in the character of the University that was so much a part of his life's work.
Fr. William Dorwart, C.S.C, first joined the Navy in 1967 to work as an aviation electronic technician, but he returned after his ordination to serve as a chaplain in 1985. When he retired in 2017, he was one of the oldest of the Navy's 800 chaplains. Fr Dorwart would serve aboard both Marine and Navy vessels during his career. He left the Navy in 1991, to teach at the Notre Dame Seminary and as a Holy Cross Provincial. He was working at the University of Portland in 2008 when he decided to investigate the possibility of going back to the military, due to the increasing need for chaplains during Iraq and Afghanistan insurgencies. With the support of his confreres, he traveled to the outpost of Diego Garcia in the Indian Ocean. In 2013, at 62, he needed an age waiver to stay in active ministry, but he stayed. He was one of only 45 Catholic priests serving the entire Navy, Marines and Coast Guard.
Interview with Fr. William D. Dorwart, C.S.C., about his service with the Military Archdiocese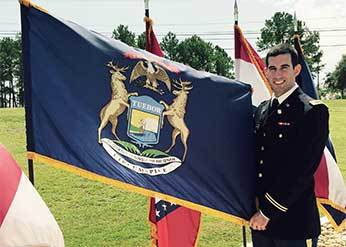 In keeping with tradition, newly ordained Fr. Michael Palmer, C.S.C., is also looking forward to the possibility of being a military chaplain. When Fr. Palmer's uncle returned from his Army tour of duty in the Middle East, he observed that one of the hardest things for him was not having a Catholic chaplain around; not being able to receive the Eucharist, go to Confession, or even seek spiritual direction for his faith. This combined with influence of Fr. Hesburgh's motto, "God, Country, Notre Dame," which is emblazoned above the East entrance of the Basilica, inspired Fr. Palmer to further discern what his superiors might think of him serving as a chaplain. With the full support of his community, in the summer of 2015, Fr. Palmer trained for 12-weeks at the Chaplain Basic Officer Leader Course (CH-BOLC) in Fort Jackson, SC. Although he is not currently scheduled for deployment, Fr. Michael Palmer, C.S.C. is excited to serve wherever God, and Holy Cross, might call him to go.