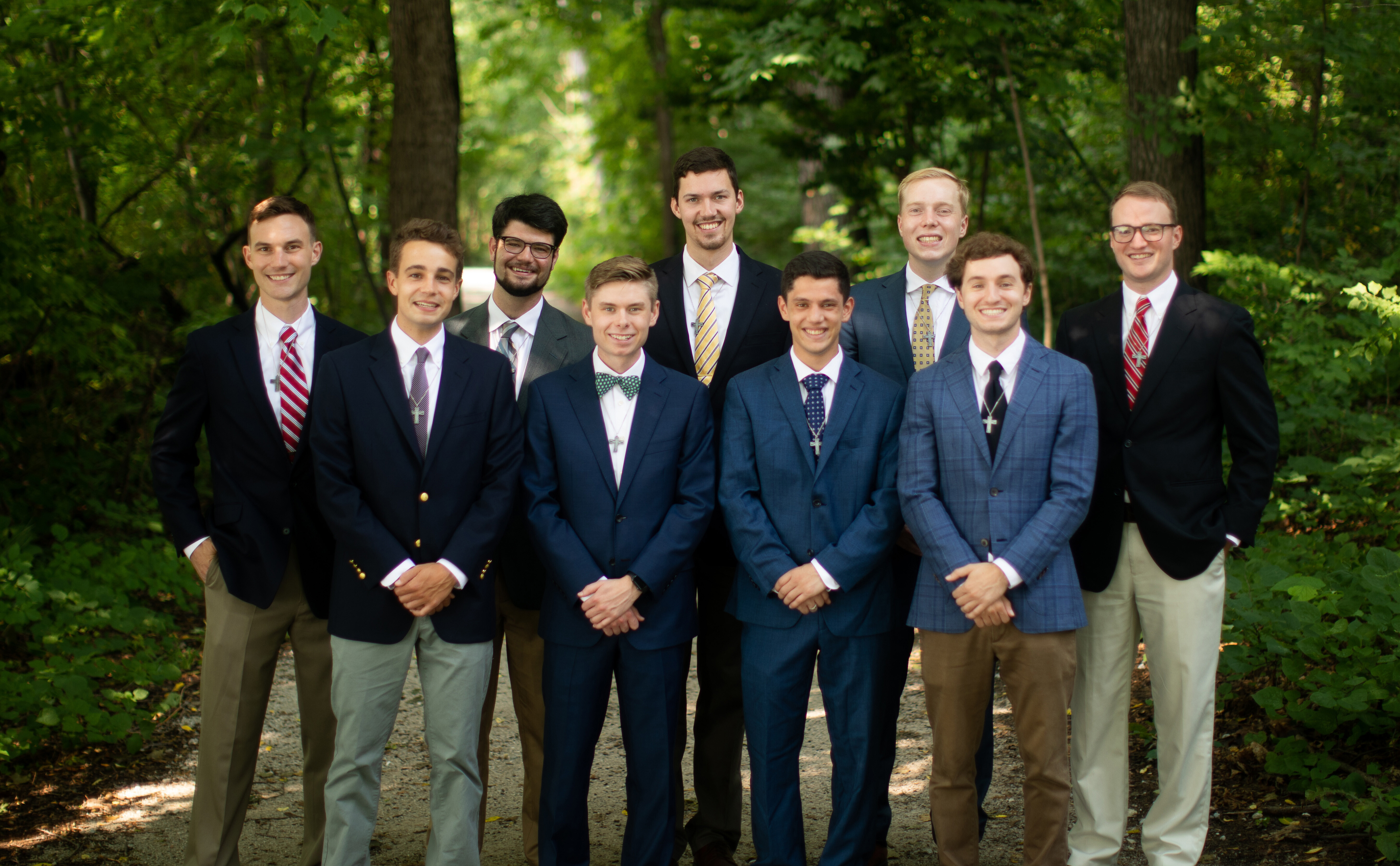 The Moreau Seminary Postulant Program is for college graduates ages 22-35 who feel called to discern a vocation to religious life and priesthood with the United States Province of the Congregation of Holy Cross. In this yearlong program, the Postulants enter into a rhythm of prayer, religious formation, study, and community life at Moreau Seminary, where they live along with the temporarily professed seminarians who are completing their graduate studies in theology. By introducing them into the life of a religious and seminarian, the Postulant Program allows young men to discern a vocation to Holy Cross more deeply while also preparing them for the Novitiate, which would be the next stage in their formation as brothers and priests.
---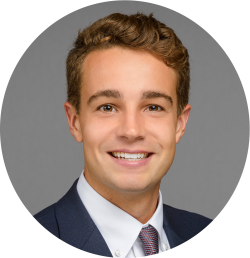 John Cahill
Charleston, South Carolina
Family: Third of four children of John and Betsy Cahill
Home Parish: St. Mary of the Annunciation (Diocese of Charleston, South Carolina)
Education: University of Notre Dame, B.A., Program of Liberal Studies, 2018
Hobbies: Cycling (road), baroque music, reading
I had conversations about the priesthood with close friends throughout high school and first discerned a more actionable call during my undergraduate years (2014-2018). The call came through those who loved me and those whom I loved.
People have far and away been the most influential and engaged in my vocation. A few clergy members, in addition to close friends and family, were incredibly supportive during challenging conversations. I also found books regarding religious life and vocations extremely valuable, a few examples being Merton's The Seven Storey Mountain and de Sales' Introduction to the Devout Life.
I discovered the Congregation of Holy Cross during my undergraduate years at Notre Dame. The in-residence priests in the halls were especially formative during my time there, as well as the recently-ordained priests who had just gone through seminary.
The joy emanating from the vowed religious of the Congregation of Holy Cross prompted the simple question: "How and why are these men so joyful?" As I continued to witness the mission and work of Holy Cross on campus and around the world, I was inspired to follow my own call to the Congregation after a few years away in the workforce.
I prepared myself for the Postulant Program by praying, spending time with friends and family, and reading.
---

Edwin Donnelly
Cranford, New Jersey
Family: Oldest of three children of Ed and Lori Donnelly
Home Parish: Saint Michael's Parish (Archdiocese of Newark, New Jersey)
Education: University of Notre Dame, B.A., Theology, Classics, and Liturgical Music Ministry, 2021
Hobbies: Writing, golfing, hiking, collecting fountain pens, rare books and vinyl records, music, Knights of Columbus.
For as long as I can remember, I have always longed to get closer to God. Others have noticed this in me as well — a family member once told me when I was five that I would make a "good priest," because I liked to talk with her about God. My longing for God and my growing awareness of His call for me to become His priest have persisted.
When I arrived as a freshman at Holy Cross College, everything about this "great band of men" drew me in. Today I continue to be drawn in. From hours-long lunches with Rev. David Tyson, C.S.C., to late nights listening to Irish folk music and reading Latin with Rev. Michael Sullivan, C.S.C. I lived for a summer with the brothers at Columba Hall, served as a board member for the Holy Cross Associates, and began a students' chapter. I have been steeped in Holy Cross.
My journey of discerning God's call for me has been in many respects due to the Holy Cross priests and brothers I've encountered throughout the years. When I lived for a summer at Columba Hall, I experienced community life with Holy Cross brothers. I learned of the many traditions and vast ministries of the Congregation.
There are many ways God has tilled the soil of my soul so that the Postulant year might be one of growth for me in formation with my brothers. Intellectually and spiritually, I have, in the spirit of Blessed Basil Moreau, cultivated my heart and mind through my undergraduate coursework, central to which has been a life of prayer. Integral to this intellectual and spiritual preparation has been my practice of praying the Divine Office, either alone at my bedside or in my dorm's chapel.
---

Kevin Fitzsimmons
Dallas, Texas
Family: Third of four children of Jack and Pam Fitzsimmons
Home Parish: St. Rita Catholic Community (Diocese of Dallas, Texas)
Education: St. Louis University, B.A.,
Secondary Education and Mathematics, 2015; University of Notre Dame, Master of Education, 2017
Hobbies: Basketball, golf, fishing, education policy, board games.
I first thought I might be called to the priesthood during high school. I was around a number of Jesuit scholastics and priests, and really enjoyed the faith formation at the all-boys Catholic high school. Since I was involved in our campus ministry efforts and helped to lead a few retreats, it was a natural segue for many folks to ask me if I had ever thought I might be called to a religious vocation.
I came to know the Congregation of Holy Cross through my time in the Alliance for Catholic Education (ACE) Teaching Fellows Master of Education program. During my two years in ACE, and my four years working for ACE at Notre Dame since, I've encountered a number of Holy Cross priests and men in formation who have helped me understand the charisms and mission of the Congregation.
I was attracted to the consecrated life in Holy Cross first and foremost because of the many men I admired who were living that life and vocation so beautifully at Notre Dame. The priests, brothers, and seminarians living with one another in community while attending to their individual ministries in common mission inspired me to explore if I could live that kind of life as well.
As I discerned whether or not to enter the Postulant Program with Holy Cross, I wanted to be intentional by seeking spiritual direction. Little did I know that my spiritual director-to-be (who was recommended to me by several friends at Notre Dame) ended up being the director of the postulancy, Rev. Jeff Cooper, C.S.C. His guidance in spiritual direction was the most influential piece of my preparation for the program through prayer and conversation.
---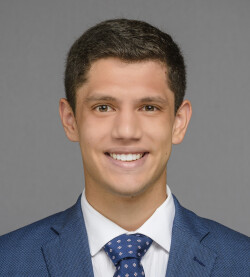 José-Miguel Guevara-Hernández
Austin, Texas
Family: Youngest of two children of Juan José Guevara and Carol Hernández
Home Parish: St. Vincent de Paul Parish (Diocese of Austin, Texas)
Education: Senior at the University of Notre Dame, English and Philosophy double major
Hobbies: Playing piano and guitar, modern philosophy, English literature
My Confirmation during my freshman year of high school was an important moment for me. For my Confirmation retreat, I received letters from loved ones with different affirmations, but the one that stood out to me was the one I received from my father, Juan José Guevara. He told me that he thought I could be "un buen Padre," a good priest, one day. It is the first time I remember being told that, and I never forgot that first instance (even if it took me a while to respond to the call).
As I was thinking about what to do in college – where to apply or what to study – my theology teachers, Mr. Chris and Mrs. Jessica Ochoa, recommended that I check out the Congregation of Holy Cross, specifically encouraging me to read the Constitutions.
As someone who is often shy and very introverted, I have realized that it is when I let others call my talents out of me that I am better able to grow and develop. The communal life of Holy Cross attracted me because I felt that a community setting would be where I would be most challenged and inspired to learn more about my gifts, and how to use them to serve God in my neighbors, whoever they may be. The common charism and spirituality of hope, which grounds the community of Holy Cross, also resonated with my own spirituality and understanding of faith.
To prepare for the Postulant Program, I decided to spend time at Saint Ignatius Martyr Parish, which is a Holy Cross parish in Austin, Texas. I thought this would help me experience parish life - something which I did not know much about - and show me what it is like to live in a Holy Cross community outside of Notre Dame.
---

Liam Johnson
Albuquerque, New Mexico
Family: Second of four children of Matthew and Deborah Johnson
Home Parish: Our Lady of the Annunciation Parish (Archdiocese of Santa Fe, New Mexico).
Education: Senior at the University of Notre Dame, History and Theology major with a minor in Philosophy
Hobbies: Sports, watching films, hiking
I first heard God's call to religious life at World Youth Day in Krakow, Poland. After a week full of prayer, catechesis, and pilgrimage, I began to feel explicitly called to discerning a vocation to religious life. At Tyniec Abbey, a Benedictine Abbey near Krakow, I was overcome with the realization that God was calling me to discern a vocation to religious life.
After telling my dad about my wish to enter seminary, he suggested that I look into the Congregation of Holy Cross. My dad is an alumnus of the University of Notre Dame and converted to Catholicism while on campus. He helped guide me to the Congregation due to his prior experiences with Holy Cross religious on campus. He had me sign up for the Summer Seminary Immersion Program (SSIP) at Old College for two weeks between my junior and senior year of high school. During SSIP, I fell in love with both Old College and the Congregation of Holy Cross and decided to apply to Old College shortly thereafter.
The two things that attracted me to the consecrated life in Holy Cross were the intense focus on community life and the ministries/apostolates offered by the Congregation. Throughout my life, I constantly sought after - but was missing - a group of other men my age with whom I could enjoy my Catholic faith, whether through conversation, ministerial experiences, or pilgrimages. This is something I saw in the Congregation of Holy Cross and was a critical reason for me to apply.
---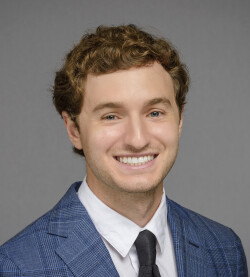 Thomas Karam, Jr.
Baton Rouge, Louisiana
Family: Second of three children of Thomas and Jamie Karam
Home Parish: St. Aloysius Catholic Church (Diocese of Baton Rouge, Louisiana)
Education: University of Notre Dame B.A., Classics (ancient Greek), 2017; University of Notre Dame, Master of Education, 2019
Hobbies: Hiking, reading, LSU sports, throwing the football
After reflection with members of Holy Cross about my vocational desires and joyful experiences living in community, I decided to take the step to more intentionally discern religious life in Holy Cross in the Postulant Program.
Both the brothers and priests of the Congregation of Holy Cross have formed me since my freshman year of college. My rector in Keough Hall was Rev. Patrick Reidy, C.S.C., who opened up much more about the Congregation than I had known prior, and my affinity for Holy Cross grew from there. Also helpful were conversations with those either in or entering formation, who echoed my own needs and desires, and who showed me how life in formation in Holy Cross can be lived well.
The book Laurus also helped me to decide to explore a vocation with Holy Cross. The book stressed the importance of reliance on faith over knowledge of the future and reliance on God's strength and grace. Those themes were essential in framing my conversations and my decision to explore further.
The charism of Holy Cross and the role it's played in my own formation attracted me to the order above others, while my decision to apply to formation in Holy Cross came from personal discernment of how my gifts can be best used to serve God and the Church.
To prepare for seminary, I went on a few silent retreats and visited Moreau Seminary to see how the men in formation live. Several conversations with people in formation, both in and outside of Holy Cross, also helped prepare me to begin the Postulant Program.
---

Connery McFadden
Williamsport, Pennsylvania
Family: Youngest of three children of Patrick and Monique McFadden
Home Parish: St. Joseph the Worker Parish (Diocese of Scranton, Pennsylvania)
Education: Holy Cross College, B.A., Theology, Philosophy, and Political Science, December of 2021
Hobbies: Running, biking, playing soccer, taking photos, hammocking
I heard God's call to a religious vocation when I was in high school, but it wasn't until I graduated that I actually acted on the call and started discerning. Freshman year of college was the time when I felt comfortable expressing my longing and was willing to follow Christ in a much more intimate way. The call came to me through many different parts of the Mass, conversations with religious, family, and friends, and ultimately in my prayer time.
I found out about the Congregation of Holy Cross when I visited Notre Dame during the spring of my senior year of high school. During the fall of my freshman year at Holy Cross College, I was introduced to the Congregation further by Br. George Klawitter, C.S.C., who taught my English 101 class. He allowed me to explore the Congregation's formation program as an end of the semester research assignment. I discovered how the Congregation is truly a family. The members carry out the will of God through the many ministries the Congregation has.
I was attracted to the consecrated life in Holy Cross because of how the brothers and priests love and serve the Lord. They live with a passion of love and joy that is unending.
The last two years in the Old College Program allowed me to get more intentional about my vocation to the priesthood. Through daily Mass, prayer, and common table, I gained a good sense of living a life for Christ and others. The Old College program also gave me peers and mentors to help guide me as I travel towards Christ. The Postulant Program will continue to help me understand what God wants from me and understand my vocation.
---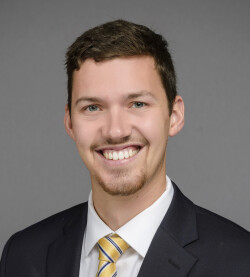 Matthew Piwko
Sparta, New Jersey
Family: Second oldest of four children of Bob and Kathleen Piwko
Home Parish: St. Kateri Church (Diocese of Paterson, New Jersey)
Education: University of Notre Dame, B.A., Finance, 2019; University of Notre Dame, Master of Education, 2021
Hobbies: Reading, hiking, guitar, sports (especially basketball and soccer)
When I was in third grade, I told everyone that I wanted to be a priest and an NFL player. My plan was to move from the altar to the gridiron on Sundays. The next time wasn't until my senior year of college when I watched the documentary on Rev. Theodore Hesburgh, C.S.C. I was profoundly affected by the example of some Holy Cross priests. Watching that documentary made me realize the impact that a priest can have and the sacrifices they make. One quote from that movie has always stuck with me: "Fr. Ted had to forgo having a family of his own so that he could make us all his family."
I didn't know anything about the CSCs until coming to Notre Dame. I learned what being a Holy Cross priest is by living with and learning from them. A class I took senior year was instrumental in my discernment. It was Heart's Desire and Social Change taught by Fr. Dan Groody. During that class, I learned more about what it means to live a life of service as a priest and I learned to deal with the lifelong question of vocation.
The men of Holy Cross have a gentleness about them which is very hard to find in our faith today. I think they put forth loving compassion in a way that is palatable to all. The men of Holy Cross whom I have met are also incredibly joyful.
I prepared for the postulancy through reading, conversation, and prayer. Making my prayer life more central to my day has been a huge shift for me. Supplementing my prayer has been great spiritual reading.
---

Eric Washkewicz
West Orange, New Jersey
Family: Only child of Joseph and Theresa Washkewicz
Home Parish: St. Joseph's Church (Archdiocese of Newark, New Jersey)
Education: U.S. Naval Academy, B.S., Mechanical Engineering and Ocean Engineering, 2013; Cambridge University, Master of Philosophy, Energy Technologies, 2014
Hobbies: Cycling, rowing, scuba diving
I first heard God's call to the priesthood when I was 17 and serving as a lector in my home parish. Our priest, Fr. Richard Francesco, encouraged me to consider applying to seminary. We spoke for a few minutes, and at the end of the conversation I said, "I'm pretty set on going to the Naval Academy, but if the Navy's not my calling, I think the priesthood is." That was my first definitive "yes" to God's call.
When I was graduating from the Naval Academy, I was given the option to serve as a Surface Warfare Officer for two years, leave the Navy, and enter the Chaplain Candidacy Program, and serve as a Diocesan Priest. I declined, because I would not have been able to attend graduate school or serve as a submarine officer. Fortunately, when I attended Cambridge University, I met Rev. Kevin Grove, C.S.C., who was in his second year of his DPhil, while I was studying for my MPhil. We became (and still are) great friends, and he was the person who introduced me to the Congregation of Holy Cross.
One thing I love about the Submarine Service is that we were a group of 160 men, underwater, living in common in our own community, fulfilling a common mission to the nation. That life contained many parallels to consecrated life, most notably living in common and fulfilling a shared mission. As I discerned, I paid close attention to the charisms of various orders. Holy Cross' emphasis on brotherhood drew me in. Ever since leaving the submarine, I taught physics, coached rowing, and served as a submarine mentor to midshipmen at the US Naval Academy. In order to prepare for the Postulant Program, I began to live the religious life as best I could at home. I started praying the Liturgy of the Hours, attending daily Mass, and began attending Holy Hour regularly with a Catholic chaplain on campus.