If you are in the South Bend, Indiana, area, or reside on the campus of the University of Notre Dame, please scroll down to meet the vocations staff at Moreau Seminary. If you have questions about discernment with Holy Cross, please contact us. We're happy to help.
Or, if you are on one of our four college or university campuses, please use these buttons to find a vocations director near you!
---
Rev. Neil Wack, C.S.C.
Director, Office of Vocations
Fr. Neil Wack, C.S.C., joined the Office of Vocations staff as Director in the summer of 2015. Before entering full time vocation ministry, Fr. Neil served for seven years as Pastor of the parish where he grew up, Christ the King Parish in South Bend, Indiana. He earned a Bachelor of Science in Computer Science from Purdue University ('93) and a Master of Divinity from the University of Notre Dame ('02) prior to his Ordination in the spring 2004. In addition to his position as Vocation Director, Fr. Neil also ministers as priest-in-residence in Keough Hall on the Notre Dame campus.
Rev. Tim Mouton, C.S.C.
Associate Director, Office of Vocations
Born and raised in Houston, Texas, Fr. Tim Mouton, C.S.C was ordained to the priesthood in April 2015. He is a product of the Old College Undergraduate Seminary Program, joining in 2006 following his High School Graduation. Fr. Tim spent his first three years of full time ministry at Stonehill College in Easton, Massachusetts where he served as the Campus Minister for Faith Formation as well as the Athletic Chaplain. He also worked with the Skyhawks' baseball program as an assistant coach for three years while residing in a freshman residence hall. Along with his position in the Vocations Office, Fr. Tim will serve as a priest-in-residence for Fisher Hall.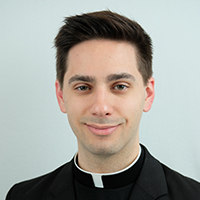 Rev. Dennis Strach, C.S.C.
Associate Director, Office of Vocations
Fr. Dennis grew up in Rochester Hills, Michigan, and came to the Congregation of Holy Cross after earning his bachelor's degree in music from Oakland University. During his time in formation, he developed a love for sacramental and liturgical theology and enjoyed a number of ministry assignments in Latin America that greatly impacted his relationship with God and his desire to minister as a religious priest. Fr. Dennis comes to the Office of Vocations after four years serving as the parochial vicar of St. Ignatius Martyr Catholic Church in Austin, Texas.
Fr. Dennis graduated with his M.Div from the University of Notre Dame in May of 2015. He professed perpetual vows in the Congregation of Holy Cross on August 29, 2015, and was ordained a priest on April 2, 2016, at the Basilica of the Sacred Heart in Notre Dame, Indiana.
The Vocations Office Staff
Mr. Andy Czarnecki, Contact and Support Specialist
Mrs. Rita Wilson, Office Manager