Hometown: Delmont, Pennsylvania
Summer ministry/job: St. Ignatius Martyr Parish, Austin, TX
What college did you attend: University of Notre Dame; Harvard Graduate School of Education
What was your major: BA in Liberal Studies; EdM in Higher Education
Patron Saint: Blsd. John Henry Newman
Top movies: Arrival; Chronicles of Narnia Prince Caspian
Top books: The Wounded Healer by Henri Nouwen; The Plague by Albert Camus
Top musicians in your playlist: Trevor Thomson, Tom Booth, Ken Canedo
Most memorable liturgy you have attended: Wednesday Morning Mass with the guests at Andre House in Phoenix, AZ — such a reminder of how deeply we all need the healing gifted through the sacraments.
Hobbies: Talking to people about life, writing, playing four square, and making pancakes
The place in the world you'd most like to visit: Siberia
Favorite way to pray: Singing the Psalms
What drew you to Holy Cross? The witness of the Holy Cross men at Stonehill College, the good work of providing a holistic education rooted in the hope of the Cross, and God continually putting Holy Cross in my path.
What are your favorite passages from Scripture: "When he returned he found them asleep. He said to Peter, 'Simon, are you asleep? Could you not keep watch for one hour? Watch and pray that you many not undergo the test. The spirit is willing but the flesh is weak." Mark 14:37-38
---
Noah Junge, 23
Hometown: Leonardtown, Maryland
Summer ministry/job: St. André Bessette Parish, Portland, OR
What college did you attend: University of Notre Dame
What was your major: Civil Engineering
Patron Saint: St. Maximilian Kolbe
Top books: The Imitation of Christ
Top musicians in your playlist: Jim Croce, John Prine, Simon and Garfunkel
Most memorable liturgy you have attended: Renewal of Vows by two of my brothers. This simple liturgy was a wonderful reminder of the life we hope to live. A simple life dedicated entirely to God. Just like the small Mass that they renewed their vows at, much of a beautiful religious life will be unknown by the world. This is however a great thing.
Hobbies: Running, hiking, writing, conversation
The place in the world you'd most like to visit: Alaska
Favorite way to pray: Journaling
What drew you to Holy Cross? Initially the Holy Cross religious and then the vision of Fr. Moreau specifically with regards to education.
What is your favorite quote from Scripture: "No one has greater love than this, to lay down one's life for one's friends." John 15:13
---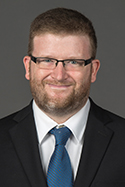 Br. Bobby McFadden, 33
Hometown: Columbus, Ohio
Summer ministry/job: Holy Redeemer Parish: Portland, OR
What college did you attend: University of Cincinnati (BA), Vanderbilt (MTS), Notre Dame (PhD)
What was your major: Classics and Theology
Patron Saint: Saint Augustine and Blessed John Henry Newman
Top movies: Cassablanca, Shadowlands, Restless Heart, Jason Bourne
Top books: Confessions by St. Augustine, Loss and Gain by John Henry Newman, Flannery O'Connor, The Story of San Michele by Axel Munthe
Top musicians in your playlist: Classical and Country Music
Most memorable liturgy you have attended: Easter Vigil Mass in the Basilica at Notre Dame. It was my first Vigil Mass!
Hobbies: Reading, walking outside, running, hanging out with friends, sports, taking photographs
The place in the world you'd most like to visit: The Holy Land, Ireland, Belgium
Favorite way to pray: The Rosary, The Divine Mercy Chaplet, and the Divine Office
What drew you to Holy Cross? "The vision of Blessed Moreau of bringing the hope of the Cross to the world.
What is your favorite quote from a Saint: "Particularly when I am worn out by the upsets of the world, I cast myself without reservation on the love of those who are especially close to me. I know I can safely entrust my thoughts and considerations to those who are aflame with Christian love and have become faithful friends to me. For I am entrusting them not to another human, but to God in Whom they dwell and by Whom they are who they are." St. Augustine
---
Aaron Morris, 29
Hometown: Ashland, Oregon
Summer ministry/job: Holy Redeemer Parish, Portland, OR
What college do you attend? University of Portland
What is your major? Mechanical Engineering
Patron Saint: St. Jude
Top movies: Into the Wild, I Confess
Top books: The Lord of the Rings, Seven Story Mountain, Endurance: Shackleton's Incredible Voyage
Top musicians in your playlist: Archie Bell and the Drells, The Band, Credence Clearwater Revival, Dispatch
Most memorable large gathering you've attended: Mass at St. James Cathedral after trekking the Camino in 2015.
Hobbies: Backpacking, swimming, snowshoeing, sailing, brewing beer, cycling, and being outdoors
The place in the world you most want to visit: Wherever the Lord leads me. Hopefully somewhere with mountains.
Favorite way to pray: I have grown fond of Night Prayer on the loft at the Chapel of the Sacred Heart of Jesus (Moreau Chapel).
What drew you to Holy Cross? In the Holy Cross I see a vibrant community of priests and brothers with a passion for their ministries. Also, I love the charge of educating minds and hearts.
What is your favorite quote from a Saint? "Your inmost being must be renewed and you must put on the new man." Ephesians 4:23-24
---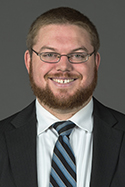 David Murray, 28
Hometown: Bloomington, Illinois
Summer ministry/job: St. Ignatius Martyr Parish, Austin, TX
What college do you attend? University of Notre Dame
What is your major? Science Pre-Professional Studies
Patron Saint: St. Augustine 
Top movies: Shawshank Redemption, Rudy, Remember the Titans
Top books: Anything by C.S. Lewis
Most memorable liturgy you have attended: The Mass of Remembrance for Declan Sullivan in 2010 that was celebrated at the Basilica of the Sacred Heart. This happened the day after he passed away (I worked with him) and best exemplified what it means to be a member of the Notre Dame community. The second Mass I remember vividly was the Mass that was celebrated in the Shrine to Our Lady of Guadalupe. It was during my first discernment retreat, and Fr. Joe Corpora, C.S.C., and two other Holy Cross priests presided. We were among thousands of worshipers, and I was inspired by the witness and devotion they displayed.
Hobbies: Reading, playing piano, watching and playing sports, cards
The place in the world you most want to visit: The Holy Land
Favorite way to pray: Adoration, and playing piano in the chapel
What drew you to Holy Cross? The emphasis on community and education.
What is your favorite quote from Scripture? "Do not fear: I am with you; do not be anxious: I am your God." Isaiah 41:10
---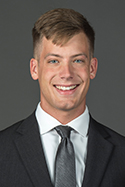 Hunter Ostapowicz, 22

Hometown: Grand Rapids, Michigan
What college do you attend? Holy Cross College
What is your major? Theology and Philosophy
Patron Saint: St. Adalbert, St. Leo the Great, St. John Paul II
Top movies: Wes Anderson movies
Top musicians in your playlist: Hans Zimmer, Alexandre Desplat, John Williams
Most memorable liturgy you have attended: Feast Day of Basil Moreau in Le Mans, France
Hobbies: Singing, listening to music, exploring, visiting churches, relaxing
The place in the world you'd most like to visit: China, India
Favorite way to pray: With the Psalms, Seven Dolors Chaplet
What drew you to Holy Cross: I love the community life of the Congregation. There is a deep sense of brotherhood shared by many Holy Cross religious that shows in their pastoral ministry to the Church. They are men that lead by example and live as Christ calls them to. Holy Cross religious also understand their call to be 'Teachers of the Faith,' and they bring Christ's teachings into schools, parishes, and other countries.
What is your favorite quote? "Christ calls you, the Church needs you, the world awaits you."
---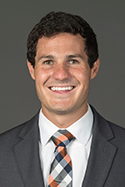 Alexander White, 26

Hometown: Fayetteville, West Virginia
Summer ministry/job: St. André Bessette Parish in Portland, Oregon
What college do you attend? University of Notre Dame
What is your major? Theology and Italian Studies
Patron Saint: Sts. Peter and Paul
Top movies: The Giver, The Prestige, The Dark Knight, Shawshank Redemption, and all the Avenger movies
Top books: Island of the World, Harry Potter books
Top musicians in your playlist: Mumford and Sons, Ripe, Jukebox the Ghost
The most memorable liturgy you have attended: My first ever Triduum (especially the Easter Vigil) at the Basilica of Notre Dame. I really felt the drama of life in Christ, the desperate situation in which sinners and the Apostles found themselves, and the weight of glory that Christ won for us. It is the story that writes my life!
Hobbies: Improv comedy, soccer, frisbee, basketball, and spikeball
The place in the world you'd most like to visit: New Zealand or Patagonia
Favorite way to pray: Eucharistic Adoration
What drew you to Holy Cross: Religious priests who were on fire for the Lord and living their faith with joy and zeal. And the call of Christ, of course!
What is your favorite quote from a Saint? "Christian joy is a gift from God, flowing from a good conscience." St. Phillip Neri
---
Learn more about Moreau Seminary