Men between the ages of 21 - 35, who have already received an undergraduate degree enter the seminary through the Postulant Program. Postulants live at Moreau Seminary, adjacent to the campus of the University of Notre Dame. Moreau Seminary is a house of prayer and study, so postulants take courses at Notre Dame while immersing themselves in the life of a Holy Cross seminarian.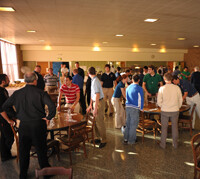 The daily rhythm of life at Moreau Seminary helps men to learn more about the life of Holy Cross priests and brothers so they can see more clearly if that is where God is calling them. Postulants typically take courses at Notre Dame as prerequisites for the Master of Divinity Program. Usually this consists of undergraduate courses in philosophy and theology, depending on the postulant's particular background.
Just as importantly, they live the life of a seminarian. They go to Mass each day and to common prayer twice a day, in addition to the personal prayer that is expected of them. They spend time each week in a ministry placement, as well as in formation conferences that teach them about different aspects of prayer, discernment, priesthood, the Congregation of Holy Cross, and the religious vows of poverty, chastity and obedience.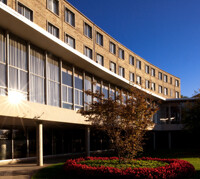 Much formation also takes place on a less formal level. Daily interactions with Holy Cross priests, brothers and seminarians give men a lived experience of community life in Holy Cross and help them to understand where they fit into our community. The formation staff is always available to assist postulants through one-on-one meetings, group sessions and informal interactions. All postulants also have a spiritual director whom they meet with regularly to assist them in their spiritual growth and response to the promptings of the Spirit.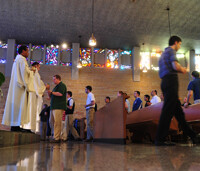 The Postulant Program is ideal for college graduates under the age of 35 who feel God might be calling them to the life of a Holy Cross priest or brother. Applicants must be baptized and confirmed Catholics who actively practice their faith. They should also be men of good moral character with a solid history of leadership and service. They should be mature and possess good interpersonal skills so that they are ready to take the next step in discerning God's call. For a man who fits this description, the Postulant Program provides a unique setting where he can learn more about himself and his faith so that he may give his life for the Kingdom.
To learn more about the Postulant Program at Moreau Seminary: