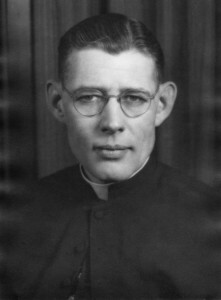 In August 2006, the cause for canonization of Bishop Vincent Joseph McCauley, C.S.C. was introduced in the Congregation of Saints. As "Servant of God" Bishop McCauley's cause undergoes review by the Diocese of Fort Portal, Uganda, Holy Cross seeks to emulate his faith, talent, energy, and joy – gifts by which he made God known, loved, and served to people in America, Bangladesh, and East Africa.
View a 36-minute film on the life of Bishop Vince
Vincent McCauley grasped family and mission at an early age. Born and raised the oldest of six children in Council Bluffs, Iowa prior to the Great Depression, McCauley learned from his parents and school teachers a love for neighbor through service to match his love for God through prayer. His local parish school, St. Francis Xavier (named for one of Catholicism's famous missionaries), instilled in McCauley a desire for evangelization; and thus, after graduation from Creighton Prep in Omaha, Nebraska, McCauley entered formation with the Congregation of Holy Cross at the University of Notre Dame.
McCauley began his missionary work in East Bengal (now Bangladesh), though not without considerable difficulty. Carrying the burden of economic depression, Holy Cross could not afford to send its newly ordained priest overseas for nearly two years, until October, 1936. During that two year waiting period, McCauley served on the seminary formation staff in southeast Massachusetts while continuing his study of Bengali. Seminarians remember him to this day as the rarest of priestly formators, one who "wanted to know what made a person tick" in guiding him to discern God's gifts and call.
East Bengal left McCauley both ardently passionate for the enculturation of Christ's Gospel and incurably ill. The suffering and hardship he experienced ministering to neglected Kuki Christians (a distinct minority in the overwhelmingly Muslim country) in Agartala matched only the debilitating, disfiguring pain of facial skin cancer he carried for the rest of his life. Illness ultimately brought McCauley home to America in May 1944, where, after nearly an entire year in recovery, he joined the formation staff at Holy Cross's Foreign Mission Seminary (the Bengalese) in Washington, D.C.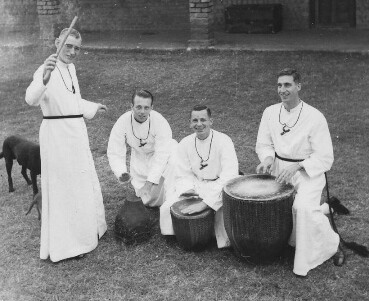 The next thirteen years of his life would be devoted to seminarian formation and mission procuration, a role in which McCauley made famous the mission appeal slogan–Wanted to build a better world: few architects, more bricklayers.
McCauley returned to mission work in 1958 as the founding member of Holy Cross's apostolate in East Africa. With newly ordained priests Burton Smith, C.S.C., Francis Zagorc, C.S.C., and Robert Hesse, C.S.C., McCauley spearheaded a mission that undertook the establishment, renovation, and strengthening of parish churches and schools throughout western Uganda. When Rome split western Uganda into northern and southern dioceses, McCauley was appointed bishop of northern Fort Portal. As Bishop, McCauley built Fort Portal diocese from the ground-up, founding numerous parishes and diocesan structures, along with St. Mary's Minor Seminary for local priestly formation.
Bishop McCauley's commitment to the local church and the enculturation of the Gospel can be heard in his advice to fellow Holy Cross priests in mission: "We no longer use the term 'adaptation.' The suspicion is that 'adaptation' implies putting African clothes on European and foreign interpretations of Christ's message. To the African Church the message of Christ is universal and, therefore, should be presented to the Africans as God's message to Africans. It must be something that can be understood and put into practice in Africa and not be Europeanized or Americanized to be understood and practiced…The Gospel, the Church, must be incarnated in the African culture in which we live."
Remembered for his compassion and leadership, Bishop McCauley guided the Church in aiding countless refugees, widows, orphans, and migrants in the East African region during the 1960s and 1970s before assuming administrative roles in East Africa's episcopal associations. His leadership in the establishment of an East African seminary, as well as the Catholic University of Eastern Africa, remains one of his distinctly Holy Cross legacies to a region in which global Catholicism finds one of its modern centers of gravity.
As a consummate "educator in the faith," Bishop McCauley understood that missionaries in East Africa work not as "do-gooders" for the appreciation of others, but as men and women seeking "to establish the Church, to raise up a People of God in [East Africa], to educate our African brethren to understand Catholic living, a people who will love the Church, strengthen it, expand it." And missionaries raise up their People of God in the hope of Christ's cross, omnibara lya Isiitwe, neriya Mwana, neriya Moyo Muhikirire. Amina. ["In the name of the Father, and of the Son, and of the Holy Spirit. Amen." (Rutooro, the native language of Fort Portal, Uganda)]