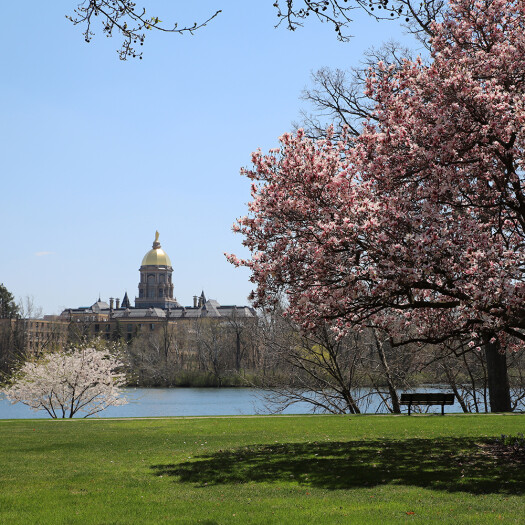 Greetings from the vocations office! We have finally entered spring in northern Indiana. Currently we are finishing the application process for this coming fall, and looking forward to the arrival of our new seminarians in August. We are also starting to plan for 2019, believe it or not! But let's stay in the moment, and think about this wonderful month of May, the month of Our Lady. During the winter, I was able to look out of my office window and see the statue of Mary atop the Golden Dome (which is the administration building for the University of Notre Dame). Now my view is obscured, because a stunning tulip tree has taken bloom. It's a great chance to look at the ways God has blessed us in the beauty of nature as new life begins, where not too long ago there appeared to be just branches and barren ground. Sometimes our hearts can feel like that, where we need to put our priorities back in order and re-dedicate ourselves completely to the joy of the Gospel, which is ever new.
There is much joy this month in the various feasts and holidays we will celebrate! On the day that we usually recognize Our Lady of Fatima, May 13, we will also be recognizing our moms for Mothers' Day. Sometimes we can forget to pray in thanksgiving for what God has given us, and I'm afraid this is certainly true of our moms. Whether they are here, or have gone on to God, they were the first to nurture us, to treasure in their hearts what we said and did as youngsters, and hopefully the first teachers and models of the faith. Abraham Lincoln had this to say about his mom: "All I am, or ever hope to be, I owe to my angel mother."
In many parts of the United States, May 13 will also be Ascension Sunday, when Jesus rose into heaven, but not before promising that He would send the Holy Spirit to help us. Shortly thereafter, the apostles received the Holy Spirit at Pentecost, which we will celebrate on Sunday, May 19. There's no better prayer for discernment than a prayer to the Holy Spirit!
Down through the ages there have been many excellent prayers to the Holy Spirit. On our sidebar you can access Saint Augustine's prayer to the Holy Spirit. You can also get to a wonderful hymn, "Oh Breathe on Me, Oh Breath of God." I've heard that this hymn was written by someone who was in formation, who was asking for the Holy Spirit's help in discerning God's will. Perhaps you don't have time in your daily prayer for long prayers or hymns, but need the wisdom, courage, fortitude, etc. of the Holy Spirit (and who doesn't need Him?), then try the simple prayer "Come, Holy Spirit." It's discussed in the Catechism of the Catholic Church (2670 to 2672), and it's a simple, quick way to ask for the Spirit's help when we need Him (again, that's pretty much all of the time)!
In these beautiful days of May, let us ask for the intercession of our Blessed Mother that we may know the will of the Father, that we may pick up our Cross and follow the Lord Jesus, and that we may welcome the Holy Spirit into our hearts. May we discern the next step we are called to make – for our day today, for our vocations and for our relationship with the Father, the Son, and the Holy Spirit. Amen.