If you are considering a vocation to the priesthood or religious life, or if you have questions about the Congregation of Holy Cross, we're here to help. If you are a student at the King's College, or if you reside in the Wilkes-Barre area, we have people available to talk to you, and direct you to additional resources and events that might be helpful in your discernment.
---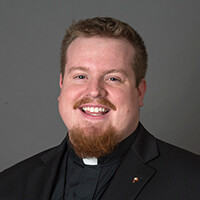 Rev. Jarrod Waugh, C.S.C.
Associate Campus Minister, King's College
Fr. Jarrod Waugh, C.S.C., is originally from Edna, Kansas, just outside Witchita. He began is undergraduate studies at Notre Dame in 2004, and lived in Keough Hall for 2 years before he transferred to the Old College program to begin his formation with Holy Cross. Fr. Jarrod took his Final Vows in August of 2012, and was ordained a priest in the spring of 2013. He was assigned to Christ the King Parish as a transitional deacon, and he continued on staff there until he joined the Office of Vocations. After finishing his assignment in the vocations office, Fr. Waugh was re-assigned to the campus ministry team at King's College. Fr. Waugh can be reached by phone at 570.208.8065 or email him at .