The virtual retreats are held on Zoom on Ash Wednesday and every Sunday of Lent at 7 p.m. Eastern.
To join the webinar using the Zoom app, use this webinar ID:
899 8772 2700

Register to receive email reminders
and a digital edition of the Lenten retreat prayer booklet
---
Join the Lenten Retreat webinar
See the links below to download the retreats in video or podcast format.
Typically they will be posted by 4 p.m. EST the day after the retreat.
Download the Lenten retreat prayer book.
---
Rev. Wilfred Raymond, C.S.C.

Ash Wednesday, February 22, 2023


Station One: Jesus is condemned to die

Station Two: Jesus takes up his Cross

Rev. Neil Wack, C.S.C.

Sunday, February 26, 2023


Station Three: Jesus falls the first time

Station Four: Jesus meets his sorrowful Mother

Rev. Fred Jenga, C.S.C.

Sunday, March 5, 2023

Station Five: Simon helps Jesus carry the Cross

Station Six: Veronica wipes the face of Jesus

Rev. John Donato, C.S.C.

Sunday, March 12, 2023

Station Seven: Jesus falls the second time

Station Eight: Jesus meets the women of Jerusalem

Rev. Daniel Issing, C.S.C.

Sunday, March 19, 2023

Station Nine: Jesus falls the third Time

Station Ten: Jesus is stripped of his garments

Rev. Bruce Cecil, C.S.C.

Sunday, March 26, 2023

Station Eleven: Jesus is nailed to the Cross

Station Twelve: Jesus dies on the Cross

Rev. James Phalan, C.S.C.

Sunday, April 2, 2023

Station Thirteen: Jesus is taken down from the Cross

Station Fourteen: Jesus is laid in the tomb

Congregation of Holy Cross Virtual Lenten Retreat

The retreat begins at 7 p.m. Eastern,
on Ash Wednesday and every Sunday of Lent.

The retreat platform/software is Zoom.

If you do not have the software installed, you will be prompted to install it when you
click on the "Join the Webinar" button above.

If you are not familiar with Zoom webinar software, please read below for more
detailed instructions on how to install it.

If you are using a tablet or smartphone, please visit your device's app store
and download the Zoom app ahead of the event.
---
CONNECTING | FAQ | ETIQUETTE AND SECURITY
---
How To Join the Lenten Virtual Retreat
Thank you for your interest in attending our Holy Cross Lenten Virtual Retreat!
Below is information designed to help individuals who have never attended a virtual meeting or conference or who may be unfamiliar with Zoom as a virtual meeting platform.
Please note that you do not need to subscribe to Zoom or have a Zoom account to participate in a virtual retreat. Nor are you required to have a webcam or microphone. You will, however, need to download and run a small program on your computer (or smart device). Details regarding device setup are below:
Zoom offers a "Test Meeting" that you can connect to at any time to test the configuration of your computer or smart device ahead of a meeting or webinar. We recommend that first time users visit: https://zoom.us/test and click "JOIN" to test their system and familiarize themselves with the software download and setup.
A few minutes before the start of the event, click the event link at the top of this page. Zoom will prompt you to download and run a small program on your computer.
[If you are using a tablet or smartphone, please visit your app store and download the Zoom app ahead of the event.]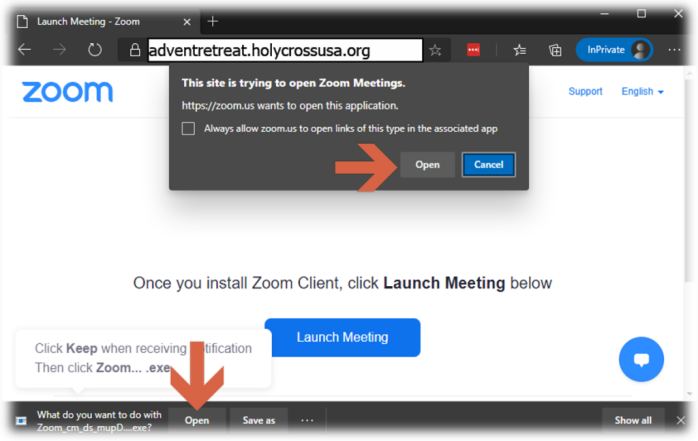 If you already have Zoom installed, your web browser will likely ask for permission to launch Zoom. You will need to allow your browser to launch Zoom.
If you do not already have Zoom installed on your device, your web browser will ask you to download and run a zoom.exe app. Depending on the web browser you use, a pop-up or button may present in the middle of your screen or the lower left corner of your screen asking you to RUN the Zoom.exe application.
If you join the retreat early, you may be placed in a waiting room. When the retreat begins, you will automatically connect.
You may choose to leave the virtual retreat at any time. Should you get disconnected in the middle of a session, click the retreat link again to relaunch your session.
---
Frequently Asked Questions (FAQ)
I have never participated in a virtual conference or meeting before. How do I prepare my system? Zoom offers the following site to test your system configuration: https://zoom.us/test. We recommend that users connect to that website and run the test before participating in their first Virtual Lenten Retreat.
Will I be seen or heard? No
Do I need a microphone or webcam or speakers? Microphone or webcam: No. Internal or external speakers or headphones: Yes.
What do I do if my link does not work? Chances are your web browser is "blocking pop-ups" (usually denoted by a pop-up blocker warning at the right end of the address bar of your web browser) or your computer is actively trying to download the Zoom.exe program in the background in which case we recommend you close your web browser completely, then try the link to the retreat again. (Be patient as it may take 10-15 seconds before you are prompted to download and run the Zoom.exe program.)
I hear sound, but don't see video. If you can hear but cannot see, verify you do not have another media program running on your computer (i.e. YouTube, Netflix, etc.) then try the retreat link again.
I can see, but cannot hear audio. Chances are you have either muted your audio on your computer (Windows users check the "speaker" icon down by the clock for volume settings or type "adjust volume" into the Windows search bar) or your speakers or headphones are not properly plugged in.
How do I rejoin an event? If for some reason you become disconnected, revisit this page (LentenRetreat.HolyCrossUSA.org) and click the Zoom event link or reenter the WebinarID in your Zoom app.
Can I attend with a mobile phone or tablet? Yes. Use the WebinarID referenced above for all four events.
Is there anyone I can contact for tech support? If you are having difficulties, please contact the retreat host who will work with you to get you connected.
---
Virtual Retreat Etiquette and Security
As a virtual retreat attendee, you will see and hear the video and audio of the presenter(s) only. You will not see or hear yourself. Nonetheless, you have options to interact with the panelist and host. Zoom offers "Chat" and "Q&A" features to submit comments or questions to the host and panelist. Please note that using the Chat or Q&A feature may expose your display name (i.e. "John Smith") to all attendees.
All comments and questions will be screened by the host who may answer them directly or hold them for the end of the retreat. Depending on time constraints and the volume of questions, it is possible some questions may not get answered or reviewed.
Additionally, the U.S. Province will be recording each session and will share the retreat recordings via the website, email and social media platforms.
To use the Q&A feature, locate a "Q&A" icon in the presentation window. Your question will be submitted to the host and panelist for review. A response will either appear on the screen or your question may be answered live. Once a question has been answered it is moved to the "answered" or "dismissed" tab.
To use the Chat feature, locate the "Chat" icon in the presentation window. Take note of who you want to chat with ("host" or "entire audience") and type your comments.
Raise your hand if you want the host to recognize you. Zoom offers a "hand raise" icon should you need the attention of the host who can then start a side conversation with you via chat.
Please adjust your audio settings in advance of the meeting. When you join the retreat you will be prompted to test your speakers. If you need to make a change to your audio settings during the virtual retreat, you should see "Audio Settings" (or a microphone icon) in the bottom left corner of the presentation window which can assist you with issues like changing from speakers to headphones or increasing volume.
Should you need to leave the retreat at any time use the "Leave Meeting" option in the bottom right corner of the presentation window. You may always rejoin a virtual retreat by clicking the link that was included in your invitation email.