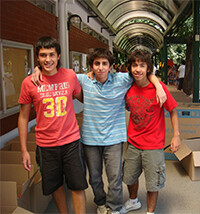 The District of Chile is the longest-running mission still overseen by the United States Province. Three Holy Cross religious arrived in Santiago in 1943 to administer Saint George's College. They believed they were going to do university work. Little did they know that "college" actually meant a school of pre-kindergarten through 12th graders.
Saint George's now serves 2,650 students. Strong faith formation and service have been hallmarks of the school. Holy Cross also administers Colegio Nuestra Señora de Andacollo (Our Lady of Andacollo School) in Central Santiago. The student body of about 1,100 is made up primarily of children from working-class families.
From the beginning, our mission of Chile has included parishes and social service. Parishes include Parroquia San Roque (San Roque Parish) in the Peñalolén section of Santiago, Parroquia Nuestra Señora de Andacollo (Our Lady of Andacollo Parish; watch this YouTube video on Parroquia Nuestra), in the same area as the school; and Parroquia Nuestra Señora de la Merced (Our Lady of Mercy Parish) in Calle Larga, a rural community northeast of Santiago. The parishes are known for their lay formation, youth ministry and social justice work with the poor and marginalized. As this video explains, the parish works to fulfill Blessed Basil Moreau's vision of connecting with parishioners transforming the congregation into a familial community.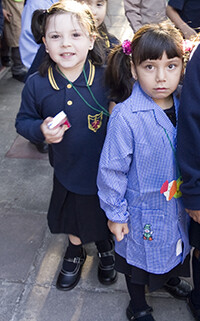 Holy Cross religious and lay collaborators also provide outreach to abandoned and abused children in Santiago through Fundación Moreau, commonly known as Fundamor. Children ages four to 18 can live and be protected at Fundamor – many spending their entire lives there. Holy Cross also runs prevention programs for the children of Peñalolen and Andcollo (Santiago, city center). Our programs have been recognized locally and nationally for the quality of care and professional work assisting these children.
In all its apostolates, a key priority of the District is working closely with its lay colleagues and providing formation for them, including a day retreat on Holy Cross Spirituality, which in years past has seen more than 200 in attendance. They are an integral part of the Holy Cross family and mission in Chile.
Family Rosary International, also in Santiago, works to strengthen Chilean families through school and parish ministry programs and Rosary distribution.
As part of our mission of serving the Catholics of Chile and supporting the growth of the Universal Church, we also provide a strong vocation program for native Chilean men seeking to join Holy Cross. In March 2003, the first of the Congregation´s five new houses for international formation was established, with young men from Chile, Perú, Haïti and Brazil.