Holy Cross priests and brothers began their ministry in Perú in 1963 to provide pastoral care to field hands and factory workers at a sugar cane hacienda. Since then, our ministry has evolved and the District of Perú was established in 1976. Our largest parish, Parroquia el Señor de la Esperanza (Lord of Hope Parish), was founded in 1977 in Canto Grande, Lima. It remains the hub of our ministry in Perú, serving 250,000 parishioners in one of the most impoverished areas of Lima.

(13 minutes)
Haga clic aquí para obtener la versión española (Spanish version)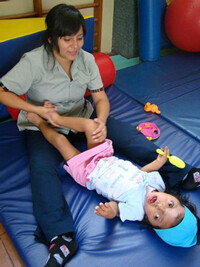 The District runs Colegio Fe y Alegría, a school within the parish boundaries that serves about 2,000 students, including pre-kindergarten, special education and technical job training students. In responding to the various special health needs of the urban poor, the District began the "Yancana Huasy" project more than 30 years ago to assist the families of children with physical and mental challenges, especially Downs' Syndrome and cerebral palsy.
Partnering with our lay collaborators, Holy Cross began its own health care ministry in the mid-1990s opening nine, small, makeshift outpatient clinics in various chapels and pastoral centers across its parish territory. For many, our clinics provide the only health care they can find or afford. We also began education programs to combat the most common and treatable diseases of poverty, such as infant dehydration, malnutrition and parasitic infections.
Our health care ministry took on more permanence with the construction of the Brother André Clinic in 2005 and the Jesus Nazareno Clinic in 2008. These two clinics provide quality medical care to thousands each month.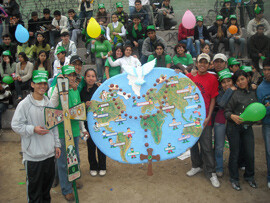 Supported by the Holy Cross Family Ministries, the District has also built a multi-purpose cultural center to host meetings, groups, workshops and special celebrations. The District also established The Father Patrick Peyton Family Life Center in Canto Grande to give direct support to families through educational programs and activities. Family Rosary International promotes the Rosary through programs that help families live their faith and stay strong in today's world.
The growth of our ministries and the steadfast examples of our commitment to build up God's Kingdom in Perú has inspired vocations in the region. The District of Perú has two houses of formation.
Click the button below to visit the Congregation of Holy Cross' Peruvian community website.