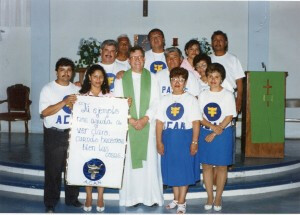 In September 2012, Holy Cross celebrated its 25th anniversary in México, where we serve the poor through our parish work, educational initiatives and missions.
Rev. Frederick Schmidt, C.S.C., first came to the rural village of Ahuacatlán, San Luis Potosí, in 1972. Fifteen years later, Rev. Jack Keefe, C.S.C., was asked by the Southern Province of the Congregation of Holy Cross to be pastor of a large, urban parish in the Archdiocese of Monterrey. Under his leadership, the parish of Santo Tomás Moro flourished and in 1996, was divided by the Archdiocese.
Holy Cross assumed the poorer half, which became Parroquia Nuestra Madre Santísima de La Luz (Our Most Holy Mother of the Light Parish) in Guadalupe, Nuevo León.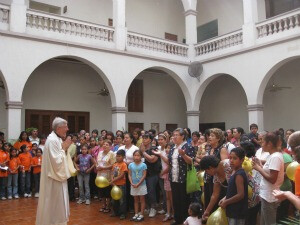 Our ministries in México include an outreach program to persons with disabilities and initiatives to help families cope with the violence that has sadly become a way of life in most of the region.
Family Rosary actively works to bring families and youth who have strayed from the faith back to the Church through its parish and diocesan educational programs. Family Rosary's youth groups and programs provide alternatives to the drug activity that is prominent in the country.
In an effort to diversify and grow our service to the Church, our international missions also provide formation programs for young men in their native countries. As the world's Catholic population continues to grow in the Southern Hemisphere, Holy Cross provides strong vocation and formation programs, along with expanding our parishes and educational institutions.