Ave Maria Press Launches New Book Series for Catholic Moms
Ave Maria Press, a ministry of the United State Province of Priests and Brothers, is launching the CatholicMom.com Books series to support the vocation of motherhood from a Catholic perspective.
CatholicMom.com Books builds on the popularity of Lisa M. Hendey's CatholicMom.com website and her books "The Handbook for Catholic Moms" and "A Book of Saints for Catholic Moms." Hendey will actively play a role in selecting one to two new authors and books for the series each year.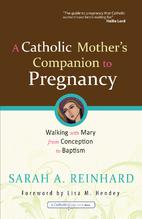 The first selection is "A Catholic Mother's Companion to Pregnancy" by Sarah A. Reinhard. The book accompanies expectant mothers from conception to Baptism with weekly reflections and prayers rooted in the mysteries of the Rosary.
In 2013, the series will include a book of Catholic baby names by Patrice Fagnant-MacArthur and another by Marge Fenelon on eight Marian virtues for motherhood.
Find out more about CatholicMom.com Books on the Ave Maria Press website, where you can also purchase books in the series.