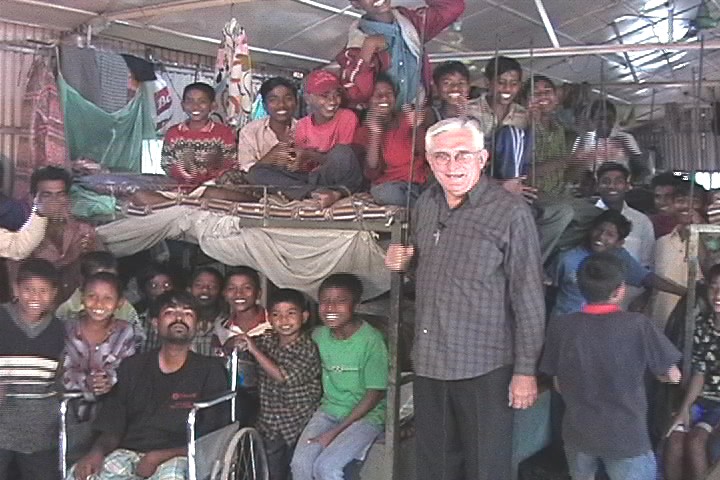 Holy Cross Priest Receives Bangladesh Educator Award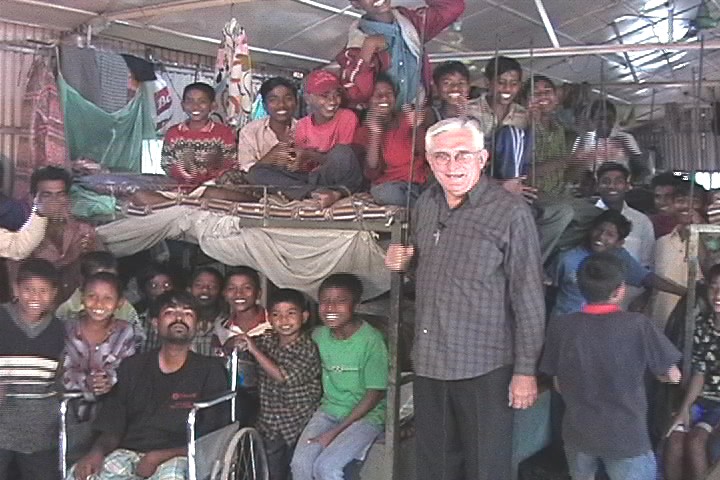 Fr. Frank Quinlivan, C.S.C., in the United States from our mission in Bangladesh, made a presentation to Fr. James Banas, C.S.C., at Holy Cross House in Notre Dame, Indiana. In July, Fr. Banas was given, in absentia, a Bangladesh Educator award at a convocation in Dhaka. Holy Cross members from other Provinces were also honored at the same convocation.
TESTIMONY FOR FATHER JAMES BANAS, C.S.C.
Fr. Banas is a multi-talented man with a great and compassionate heart. His goal is not to perform, but to pass on to others what he seems to effortlessly master himself. He studied history in the U.S., but taught English in Bangladesh, was teacher and Chairman of the English Department at Notre Dame College, and founding director of the English as a second language course at the college. He is a superb musician with a beautiful voice who sang equally well in both English and Bengali. He is recognized by so many as the foreign Father who appeared on TV several times singing songs of the Bengali poet Tagore. He organized and conducted a national-level music course for upgrading the quality of singing at Church services, and he compiled the book of 1,500 Christian hymns (Gitaboli) which is periodically updated and has become indispensable in the life and culture of the Catholics in Bangladesh. He loves to cook, has directed and taught over the years the many cooks who served the Holy Cross Community where he lived at Notre Dame College. He insisted on high standards of nutrition at the feeding program he directed for 1,500 children who come daily for study and the meal at the literacy school he established on the college campus. Many people throughout Dhaka recognize him mainly as the piano-priest who organized and formed a team that repairs, tunes and rents pianos in order to raise funds for his care of the poor. He is a gentle, kind and happy man, who shared his gifts with the rich and the poor. His greatest contribution was to bring to an educational institution a care for the poor, the little, the infirm. In joining to his academic pursuit of the College a very obvious care and compassion, he helped make Notre Dame College unique; he gave it a heart to compliment its mind. Fr. Banas was a teacher, not just of English or music, but of human values of care and compassion. Fr. Banas, who was a doctor to so many, who founded and directed the Notre Dame Medical Clinic, is now himself battling illness. We are proud to honor him as an educator, who taught in very special ways. Fr. James C. Cruze, C.S.C. Provincial, Sacred Heart Province Dhaka, Bangladesh