"Our consecration in Baptism is a departure on a journey that requires us, as it does all His people, to be refashioned by the Lord's creating grace over and over again. Likewise with our lives in a religious community, we must have formed in us by God's enablement the living likeness of Jesus Christ." — Constitutions of the Congregation of Holy Cross, 6:58
Old College is the undergraduate seminary for the United States Province of the Congregation of Holy Cross. It is open to any undergraduate man who is focused on discerning a call to the religious life, while at the same time working to obtain an undergraduate degree. For these men, Old College serves as both a house of residence and a way of life. The community combines a structured formation program with the advantages of a Notre Dame educational experience.
To learn more about Old College, we encourage you to read about the formation program, take a virtual tour of the seminary, and check out the house schedule. We also invite you to meet our current Old Collegians and their formation staff. You can also keep up with the latest events at Old College. Yet the best way to learn more about Old College is to come and see it for yourself, so we invite you to Contact Us about visiting.
---
Old College offers a balanced and structured program that allows men to grow in their faith while discerning and preparing for a vocation to priesthood and religious life in Holy Cross. Learn more about life at Old College and the components of undergraduate seminary formation.
---
Old Collegians are formed by a structured weekly schedule that emphasizes prayer, academics, and community life. The year is also punctuated by various community events and celebrations that integrate them into the life of Holy Cross and the Church.
---
The best way to discern whether Old College might be a good fit for you is to meet the men in person and experience our life firsthand. The Office of Vocations offers many different ways for you to come and visit.
---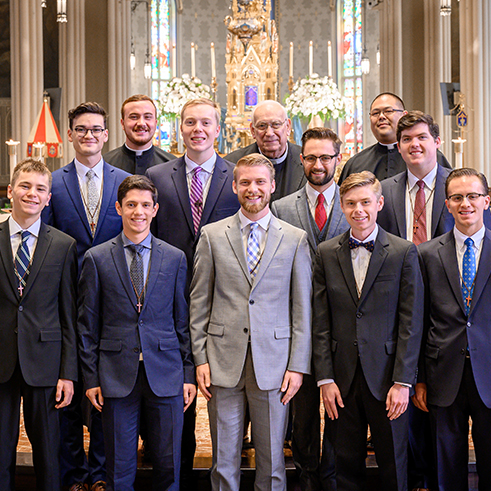 The men of Old College all share a love of the Church and a deep desire to serve the Lord, but they are also unique individuals. They come from all over the country and bring a wide range of interests and backgrounds into the community. Meet this year's Old Collegians.
---
Old College Undergraduate Seminary is led by a staff of Holy Cross religious dedicated to helping young men mature and develop in all areas of their discernment and formation. Get to know the Old College Staff.
---
The Old College Program is housed at a historic building at the heart of the Notre Dame Campus. This building includes space for prayer, study and recreation, in addition to serving as the seminarians' home away from home. Take a virtual tour to get an up-close look.
---
Old College is part of a larger program of formation for the Congregation of Holy Cross. By spending up to three years in Old College, men are prepared to get the most out of the rest of the overall program. Learn more about how Old College fits into the big picture.