Feast of St. Joseph (Mar. 19, 2015)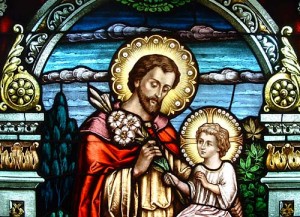 Today is the feast day of St. Joseph, patron of the brothers of Holy Cross. Holy Cross brother, Brother George Schmitz, C.S.C.,shares today's reflection:
Joseph was chosen by God for a unique role in the plan of salvation. Holy Cross brothers were entrusted to Joseph so that, like all Christians, we could emulate his faithfulness.
There are striking contrasts in Matthew's Gospel when it comes to Joseph. He receives strange, obscure messages in a dream, and then he gets up to act with faith and determination. The example of his deep and abiding trust pierces the veil and lifts the fog that sometimes enshrouds our own faith.
Very often in the Scriptures we read that the people were amazed at Jesus, and asked, "Where did he get this learning? Isn't he the carpenter's son?" Yes, he is the carpenter's son, but let us remember that this carpenter was more than just a tradesman. Joseph was a man of deep faith with the ability to hear God's call in the strangest of circumstances. He was a man of strong convictions, which enabled him to trust in God and to do what needed to be done to carry out God's will.
Like father, like sonJoseph was Jesus' everyday teacher, and inculcated in him wisdom and compassion. We see Joseph's impact on Jesus' life when we see Jesus in the Scriptures as the wise teacher and the compassionate healer of body and spirit. The wellspring of trust that Joseph fostered in Jesus can even be seen in Jesus' own "yes" in the Garden of Gethsemane.
Let us go to Joseph, that we might also receive the legacy of faith that he passed on to Jesus: to trust in God's word and act with determination to carry out God's will.