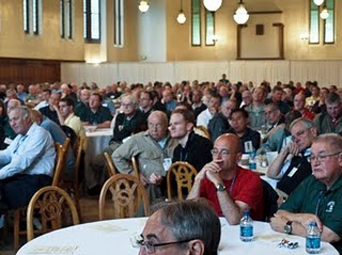 Assembly 2011: Men with Hope to Bring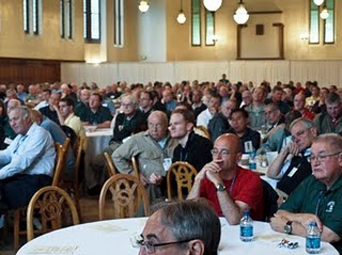 This past week, over 350 Holy Cross priests and brothers gathered together for an assembly on the campus of the University of Notre Dame. In Holy Cross, assemblies, which some have described as akin to family reunions, are a chance for all of us who are scattered across the country – and really across the world – to come together for a time of fellowship in order to renew us in our vocations and our mission. Typically, assemblies take place every five years. This assembly was a special one, bringing together the Indiana and Eastern Provinces in anticipation of the creation of the new United States Province on the Feast of the Sacred Heart on July 1.
The theme of the assembly, coming from our
Constitutions
, was "men with hope to bring".

We reflected on the even more powerful ways we can bring hope to those we serve with the resources, ministries, and, most of all, the many priests and brothers of the new province.
Fr. Eric Schimmel, C.S.C.
, who regularly writes for our blog from
André House
, sent us the following reflection on his experience of the 2011 Assembly.
It probably comes as no surprise that someone who works in an area of social justice – here at André House we have a soupline and others services for people who are poor – that I evaluate things through the lens of how people treat the most vulnerable, how we care for people who may need the most assistance. For this reason, I was uplifted by the recent Assembly of the Indiana and Eastern Provinces on the eve of their merger into the one United States Province of Priests and Brothers.
This was a time of renewed friendships and sharing stories of ministry. It was a time to meet new people and to reflect again on what brings us together. Several times throughout our week together different presenters and leaders of prayer quoted our
Holy Cross Constitutions
that tell us:
"It is essential to our mission that we strive to abide so attentively together that people will observe: 'See how they love one another.'

We will then be a sign in an alienated world: men who have, for love of their Lord, become closest neighbors, trustworthy friends, brothers."
This week I saw that Constitution lived out as people who may have never met before greeted each other like long-lost friends. They did not do so in a forced or superficial way, but in a way that recognized the other as someone who is connected to me through more than our common humanity. Somehow we know we belong together as part of something bigger than our individual selves. As one of our brethren said in a previous Assembly, "There is more to me than just me." I feel like we recognized that in each other in many ways this week.
I most easily saw us living out of our call to be brothers in the care and concern given to some of the older members of the community. At different points, the leaders of the assembly would remind us how different presentations and prayers were being simultaneously broadcast at Holy Cross House, our health care facility for those who are ailing. We also had a constant fleet of golf carts spiriting away from one location to another those who needed assistance getting from point A to point B … as well as a few people just taking advantage of the ride.
What most touched my heart, however, were the multiple examples of men noticing that their brother in community was having a hard time walking – whether climbing stairs to a hall or to a microphone – and the gentle offering of a hand. The hospitality extended was met by hospitality in the recipient – the humble gesture of allowing another to help.
Most often the drivers of the golf carts were some of our many young men (almost 50!) still in formation, preparing one day to profess perpetual vows in Holy Cross. This matched together men in the dawn of their life in Holy Cross with those who in a few years may reach their twilight. Our elders gave great encouragement to the younger men in Holy Cross. We even pushed a few of the younger ones out to take leadership during the Assembly – presiding or preaching at the Eucharistic liturgy or helping lead other reflections.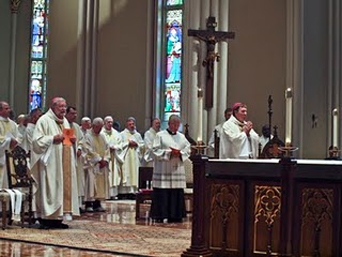 It all spoke to me of a family, and one that I am proud to belong to. It is a family in which the members do not care whether you are at the sunrise or sunset of your life – or anywhere in between. You are valued for the gift of God that you are. As I reflected on this simple living of our Constitutions, I felt that this is a message that needs to be heard – a message of hope that all are created in God's image and likeness. All are gift.
Ultimately, it reminded me that our unconscious living of our vows and Constitutions can speak very loudly and clearly. It can make us men with hope to bring.