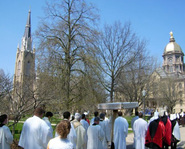 Catholic and Patriot?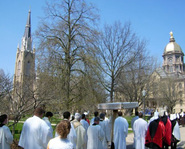 Catholics in the U.S. can have something of a love-hate relationship with the idea of patriotism. Sometimes it can feel like some good Catholics are protesting in front of city hall while others are marching with the Knights of Columbus in the Independence Day parade. (Full disclosure, I'm a proud 4th Degree Knight.) Has one group or the other misunderstood the message? Many younger Catholics quickly tire of polarized political food fights, and opt for apathy. I have sometimes found myself saying, "This whole system is broken." And maybe it is. But then I also remind myself that our whole world is broken, the human family is broken, my own heart is broken, and there is and always has been only one cure: Jesus Christ.
What then, is a Catholic to do? In the Congregation of Holy Cross, one of our heroes and most influential early leaders was the Very Reverend
Edward Sorin, C.S.C
., long time Superior General, but commonly best known as the founding President of the University of Notre Dame. Fr. Sorin was French-born, of minor nobility, and all indications point to his having become fed up with the political situation in his home country. When
Blessed Fr. Moreau
sent him and the first group of Holy Cross brothers to the U.S., Fr. Sorin soon became, in simplified terms, very patriotic. In 1841, a
letter
he wrote to the Bishop of Vincennes, Indiana, included:
How happy I am to be able to assure you that the road to America stands out clearly before me as the road to heaven. Henceforth I live only for my dear brethren in America. America is my fatherland. It is the center of all my affections and the object of all my thoughts.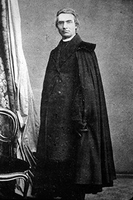 It seems clear that Fr. Sorin wanted Notre Dame to be an
American
Catholic university. The grand performance hall was named
Washington
by Fr. Sorin, in honor of the first American President. The hallways of the
Main Building
(the "Golden Dome"), are festooned with scenes of Christopher Columbus' (re-re-)discovery of the continent. Nowadays the brochures which describe those murals are as much acts of contrition as they are descriptions of the artwork. Was Fr. Sorin, too, simply caught up in the patriotic fervor of his time in a way we can smirk at and dismiss today?
I feel that one of the wisest descriptions of a healthy, Catholic attitude to these questions is found in the
Constitutions
of the Congregation of Holy Cross, though the Constitutions as they are now are not the ones Fr. Sorin would have known.
Constitution 2:17
, On Mission, states:
Our mission sends us across borders of every sort. Often we must make ourselves at home among more than one people or culture, reminding us again that the farther we go in giving the more we stand to receive. Our broader experience allows both the appreciation and the critique of every culture and the disclosure that no culture of this world can be our abiding home.
How challenging and refreshing! Two points of tension stand out to me immediately. First, that it is right to bring critiques against cultural and political realities that obscure the truths of the faith or of human dignity, but second, we can and should appreciate the truly good things in the culture, and we must, in order to serve our neighbors, make ourselves at home where the mission takes us.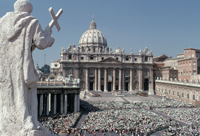 Part of the priceless treasury of the tradition of our Catholic faith is our Church's
Social Doctrine
. Sometimes these social teachings go tragically undiscovered in the lives of Catholics and Catholic institutions. Two of the most fundamental principles from this ancient yet still prescient treasury are those of
subsidiarity
and
solidarity
. These two principles, along with the rest of the richness of this collection of teaching, can help us to understand healthy ways to frame political action and advocacy which strive to come from the heart of the Church, rather than the heart of any politician or particular nation.
Subsidiarity
teaches that "Just as it is gravely wrong to take from individuals what they can accomplish by their own initiative and industry and give it to the community, so also it is an injustice and at the same time a grave evil and disturbance of right order to assign to a greater and higher association what lesser and subordinate organizations can do." (
No. 186
) This helps prevent individuals from becoming lost in a huge bureaucracy, or made no more than tiny cogs in a great, uncaring machine.
Solidarity
"is a virtue directed
par excellence
to the common good, and is found in 'a commitment to the good of one's neighbor with the readiness, in the Gospel sense, to 'lose oneself' for the sake of the other instead of exploiting him, and to 'serve him' instead of oppressing him for one's own advantage.'" (
No. 193
) This principle reminds us of the goal of progress in human society: true human flourishing.
Supported by these two pillars, along with the rest of the Church's social teaching, we can continue to discern the appropriateness of our political activities and associations, and be reminded that charity demands that we not despair of being able to improve the lives of our neighbors, especially on the most local levels.
In this light, then, I think a favorable conclusion can be made about Fr. Sorin's patriotism, to the extent that he upheld these two virtues. Fr. Sorin wanted to build up the Church in this country, and add a jewel to the Church's crown in the world, by establishing a great university. But in order to advance toward that end, he built up the people around him. He established a community here, a
family
; and those are the most important bricks that any of us can hope to contribute to the building up of a more just society.

Fr. Jarrod Waugh, CSC, is the Associate Director of the Office of Vocations for the U.S. Province of Priests and Brothers. He was ordained in 2013 and currently resides at Moreau Seminary, on the campus of the University of Notre Dame.