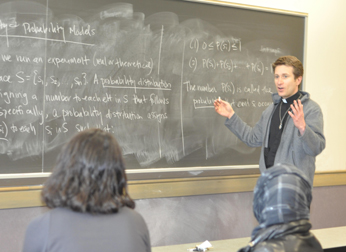 Fundamentally a Father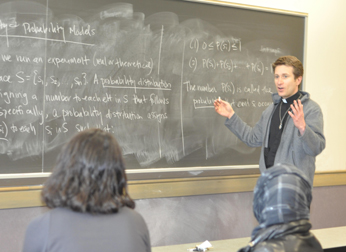 This winter, I gave a small research talk at the largest annual conference for various professional mathematical societies in the U.S. Because this conference gathers so many mathematicians from across the country, it always serves as a kind of "family reunion" where former professors, students, and classmates can catch up. I was really excited to see a number of such folks from my days at Baylor, Notre Dame, and Wisconsin. A couple of them, upon greeting me, said, "You know, Charlie, I really like reading the…" -- and for just a second, I thought maybe they were going to express something positive about some mathematics papers I co-authored -- "…homilies you post on Facebook."
A few days ago, during lunch at our faculty dining room, I ran into UP's Provost, the chief academic officer at the university. He kindly told me, "Fr. McCoy, just the other day, some students had some terrific things to say about you." Never passing up the chance to boost my morale, I asked, "Really? What about?" I imagined, since he is the Provost, that it might have been something in regard to my teaching."Well," he said, "mostly about how great you are in the confessional."
I must admit, sometimes these types of exchanges actually make me worry about the quality, success, or importance of my academic career. But there was another encounter I had during this same winter mathematics conference that really put such concerns of mine into their proper perspective. In a hotel restaurant, I ran into one of the current stars in my sub-discipline of mathematical logic; he has published some very influential papers, and everyone agrees that he gives terrific research talks. It had been about a year and half since we had last seen each other; in that time, he had gotten married, and his wife had given birth to their son. I asked him how he was enjoying fatherhood. His eyes lit up: "It's wonderful! It's hard! It's by far the greatest thing I have ever done." And it strikes me, this man values being a father more than anything else, yet many people – myself included – think of him mostly as a brilliant mathematician. I am blessed that, even when I am trying to pass myself off as a mathematician, people continue to think of me mostly as a Father.
Fr. Charlie McCoy, C.S.C., is an Assistant Professor of Mathematics at the University of Portland. He is a monthly contributor to the Spes Unica blog, reflecting primarily on the work of Holy Cross in education. Learn more about the work of Holy Cross priests and brothers in the field of education to bring hope to the Church and world.