I Could be a Third-Class Relic!
Recently I concelebrated at a Mass in honor of the anniversary of the death of Servant of God,Father Patrick Peyton, C.S.C., sponsored by the organization that he founded, Holy Cross Family Ministries, which is headquartered here in Easton, Massachusetts. As I listened to the homily which touched on the amazing faith-filled highlights of his life, I remembered that years ago I had met him. At the time I was the student sacristan at Sacred Heart Basilica on Notre Dame's campus.This was back in the late '70's and even then Fr. Peyton was world famous for his Rosary Crusades and radio shows. I shook his hand that day which I guess makes me a third class relic if Fr. Peyton is ever canonized! I can only hope that some of Fr. Peyton's devotion to the Blessed Mother and his missionary zeal rubbed off on me that day for his life is truly an inspiration.
Father Peyton was born in Ireland in1909 and at the age of 19 immigrated with his brother Tom to Scranton, Pennsylvania to join their three sisters. Patrick got a job as janitor at their local parish, while Tom went to work with a railroad. Soon both brothers answered the call to enter the seminary and headed off to join the Congregation of Holy Cross at the University of Notre Dame. In his second year of seminary studies, Patrick was stricken with tuberculosis. He was visited by Fr. Haggerty, a former teacher, who told him to pray to the Blessed Mother and that she would help him. So Patrick prayed the Rosary every day and made a vow that if he were healed he would spend the rest of his life teaching the power and necessity of praying the Rosary as a family and about Mary's power in our daily lives. Well, through the grace of God and the intercession of Mary, he WAS healed and he made good on his promise!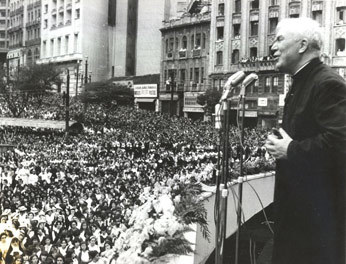 Fr. Patrick was ordained in 1941. He founded Family Rosary in 1942 and soon he was conducting Rosary rallies with millions of people in attendance. Family Rosary made its tag lines,"The family that prayer together stays together" and "A world at prayer is a world at peace" known throughout the world.
In 1947, he founded Family Theater Productions, and through an association with the Mutual Broadcasting System, his half hour Rosary radio show was heard by millions. He was able to get the biggest celebrities of his time to participate in these shows. In his lifetime, Fr. Peyton inspired countless people to pray the Rosary and to entrust their lives to the Blessed Mother. He died in 1992 and he is buried in the Holy Cross cemetery on the campus of Stonehill College. His cause for Canonization was opened in 2001. Through his intercession, may devotion to the Blessed Virgin Mary and the Rosary continue to thrive, ever drawing people closer to God.
Fr. Tony Szakaly, C.S.C., is the local superior of the Holy Cross community atStonehill College,Director of Campus Ministry, andAlumni Minister at Stonehill College. A South Bend native, he received a Holy Cross education at every level of his schooling, from the C.S.C. sisters in grade school, the C.S.C. brothers in high school, and C.S.C. priests at the University of Notre Dame. He took final vows in 1991 and was ordained to the priesthood in 1992.