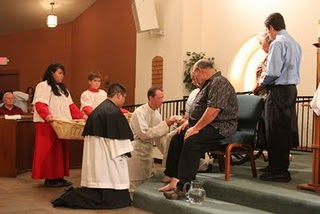 Learning the Ropes: More For Us to Learn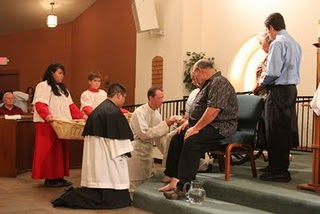 Mr. Brian Ching, C.S.C., our faithful blog correspondent this year from St. John Vianney in Goodyear, AZ, has checked in with his last post. As he explains in the post, he has finished his pastoral intership there and is moving back to Moreau Seminary to finish his final year of formal studies before final vows and ordination. In today's post, Brian reflects with us on all St. John Vianney taught him about being a religious and priest in service of God's people. A big thanks to Brian for how he has helped us learn this year through the experiences he has shared with us on Spes Unica.
It is hard to believe that a year has already passed since I first arrived at St. John Vianney and that now it is time for me to leave Arizona and return to Notre Dame for one more year of studies before final vows and ordination. The purpose of a pastoral internship year is to give a seminarian an experience of full-time ministry in the hopes that the experience will form the way he understands what ministry is and how to go about it. Having that year come before his final year of theology allows him the opportunity to integrate those ministerial experiences into his seminary formation and studies. In attempting to meet this goal, I could not have asked for a better placement than St. John Vianney. Though many of the parishioners expressed to me their appreciation for what I taught them over the past year, it really is the parish that has taught me so much in this past year.

I could not ask for a parish that was more welcoming, hospitable and on fire for God. However more importantly it was also a parish full of pastoral challenges. Challenges give us those formative experiences that shape and form us into better ministers; they are those teaching moments giving us the experience to handle similar challenges better in the future. Ministering at a large and active parish – that baptizes roughly 30 children a month and operates in two languages and cultures – certainly provided ample opportunity for growth experiences. I really cannot thank the parishioners at St. John Vianney enough for what they taught me about priestly ministry. Their zeal for the Lord and desire to love, know, and serve him more deeply has been a great witness to me of collaboration in service of the Lord.
Yet they also reminded me of the unique and special role the priest plays in the lives of the faithful. Being a priest is no ordinary 9-to-5 job and demands of us every ounce of our being, yet that sacrifice is one that is happily made because in doing so we glorify God. Priests are tasked with the awesome responsibility of leading the faithful towards God – a task that is humbling and scary, but also exciting. No matter the nature of his ministry, whether it is teaching at a university or being an associate pastor, the life of a priest is one that is inherently geared towards others. It is easy to think that we become priests to make ourselves holy, but the people of St. John Vianney reminded me that we are priests to bring others to holiness and in doing so we find our own path towards God. Simply put, priesthood is about people.
Though this internship year is over, the lessons learned from the many experiences I have had, just the tip of which were shared on this blog, will never leave me. They will forever shape the way I view ministry and the way that I bring Christ to others. As seminarians it is easy to think that after years of rigorous study and formation, we have a lot to teach, and to a certain extent we do, but in ministry there is so much more for us to learn and in doing so we come to know Jesus and make Him known.