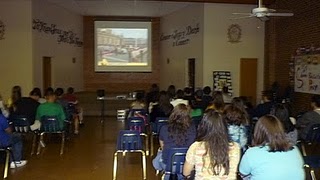 Saint Andre Canonization Watch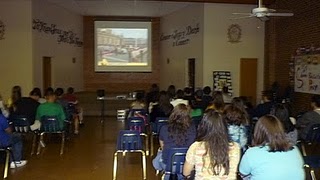 Not all the celebrations of the canonization of Saint André Bessette took place in Rome. Many of our Holy Cross parishes and schools had events surrounding the canonization. One example is St. John Vianney Parish in Goodyear, Arizona.

The parish had adoration of the Blessed Sacrament in the evening Saturday leading up to the beginning of the canonization Mass at 1 a.m. local time. At that point, they had a "canonization watch" in the parish hall. Seminarian Brian Ching, C.S.C, reports, "As you can see there was a pretty good turnout for a Mass that started at 1 a.m. local time. We had a very nice mix of both youth and adults. As the moment of the canonization approached, the crowed was absolutely silent, and a round of applause broke out after the Holy Father pronounced the formula of Canonization. Many described the ceremony as exciting, thrilling, and spiritually moving, and said that they were touched by St. André's humility and simple way of doing things, as well as his devotion to St. Joseph." Then at the parish's 5 p.m. Sunday Mass, Bishop Thomas J. Olmsted came to celebrate the Mass and give thanks with the community for Brother André's canonization. So it was all things Saint André at St. John Vianney Parish.