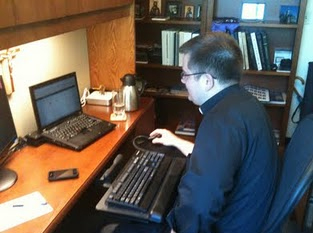 Websites, blogs, and tweets oh my!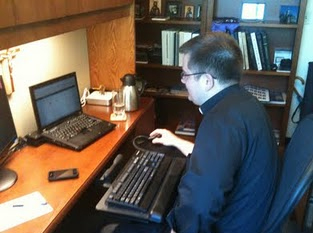 On October 3rd, the Office of Vocations will launch a totally revamped vocations website. We are really excited about the new site, which will replace our old one at the same address. This new site has been in the works for almost a year and represents the collective contributions of over 75 Holy Cross priests, brothers, and seminarians.
With the new U.S. Province website providing great information about our life and ministry, we looked to better focus the Office of Vocation's site on young men discerning a vocation to religious life and priesthood in Holy Cross. As a result, we have stuffed the new website with significantly more videos, reflections, testimonies, and resources dedicated to discernment.
For example, while both our current vocations website and the Province website include a copy of the Constitutions of the Congregation of Holy Cross, our new vocations site includes reflection questions that transform the Constitutions into a great aid in discernment.

As part of the new website, the Spes Unica blog will be leaving Blogger and moving over to the main vocations website. We believe that integrating the blog into our main website will make it a better resource for all who read it.

For those of you who receive the blog currently via feedburner, the emails should continue uninterrupted from the new site, as we are going to transfer your subscriptions over to the new site. If for some reason they do not, please just visit the new blog and opt in as you did before.

In advance of the launch of the new website, the Office of Vocations also expanded our social media presence into the land of Twitter. As of August 26th, Holy Cross Vocations has been tweeting via the handle of @CSCVocations! If you are a Twitter user, follow us there to stay connected with us and Holy Cross.

And so let the countdown begin on the new website. T-minus 15 days and counting …