"We are a community of pontifical right: men living and working under the approbation and authority of the successor of Peter. We are a religious congregation composed of two distinct societies of religious, one of religious priests and one of religious brothers, bound together in one indivisible brotherhood. Ours is a common founder, tradition, rule, government, way of life and mission." — Constitutions of the Congregation of Holy Cross, 1:6
The Congregation of Holy Cross is an apostolic religious community comprised of priests and brothers. As priests and brothers of Holy Cross, we work, pray, and live united in a common religious life sharing the same history, vows, and spirituality. The culmination of our "yes" to Christ is our profession of vows, committing our lives to Christ forever through the vows of poverty, celibacy, and obedience according to the Constitutions of the Congregation of Holy Cross.
Some are called by God and through the community to serve as priests and thus, in addition to their consecration as religious, are ordained to the priesthood. Others in Holy Cross are called to the vocation of a brother dedicating themselves to life in community and service to the Church.
Together as brothers and priests in Holy Cross we share a common life, common prayer, and participate equally in common works.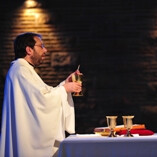 Holy Cross Priests
The Priests of Holy Cross serve the Church as religious and as ordained priests. These "men with hope to bring" serve in parishes, schools, and missions through apostolic works and the Sacraments.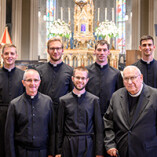 Holy Cross Brothers
The Brothers of Holy Cross contribute boldly and broadly to the apostolic work of the Congregation around the world. They are an integral part of Holy Cross communities and the Holy Cross family as "educators in the faith."