We are Men with Hope to Bring
When we hear the word "Mission," our first thought might be a mission church in an exotic a far-away locale.
Certainly the Congregation of Holy Cross serves in foreign missions. This was of critical importance to our founder Blessed Basil Moreau. Not only is the work of foreign missions a pillar in the history of the Congregation of Holy Cross, it is also an important part of our present, and future. We invite you to learn more about our foreign missions in the Mission Center section of our website.
Additionally, the Congregation of Holy Cross is involved in other ministries that might fall under the heading of 'mission.' These are other apostolates that operate both in and outside of the United States.
"Zeal is the greatest desire to make God known, loved and served, and thus to bring knowledge of salvation to others."
Blessed Basil Moreau, C.S.C.
André House of Hospitality
At André House, Holy Cross religious and other volunteers directly engage in social justice ministry to the homeless and unemployed, assisting with meals, job training, shelter and other forms of counseling and training.
Saint André Bessette Catholic Church
"Worshiping here is not clean and tidy Catholicism, but a lived reality among people who most need the message of the Church and the healing touch of our friend, St. André Bessette."
Saint André Bessette Catholic Church — formerly known as the Downtown Chapel — is a Roman Catholic parish in the heart of Old Town Portland. Sponsored by the Congregation of Holy Cross since 1989, the mission of the parish is to provide hope and healing to the most marginalized members of society.
Through prayer, service, education and advocacy, the parish has become a vital resource to the neighborhood, as well as the greater Portland area. Dedicated to serving those experiencing poverty and homelessness, the parish's community programs — hospitality center, food pantry and the Br. Andre Café — are dynamic expressions of faith in action.
Ave Maria Press
Ave Maria Press was established in by Fr. Edward Sorin, C.S.C,, in order to print Catholic materials to circulate in the South Bend area for the instruction and edification of the local Catholic community. Today Ave Maria Press offers a wide range of books, and educational resources for Catholics and educators.
Military Chaplaincy
During the Civil War in 1861, Fr. William Corby, C.S.C., joined the Irish Brigade to serve as a military chaplain. In fact, a statue of Fr. Corby, which depicts him giving absolution to a group of his men just before the battle of Gettysburg, has long graced the lawn in front of Corby Hall at Notre Dame. In keeping with this tradition, several Holy Cross men have volunteered to serve as Military Chaplains.
Prison Ministry
Holy Cross priests strive to be open to the needs of the communities in which they serve. For several Holy Cross priests, including Fr. Tom McNally, C.S.C., this meant regular visits to a local prison. Prison ministry is important work in that it reminds us all that no one is beyond the mercy of Jesus Christ, and that those who struggle most deserve our love and attention.
Athletic Chaplaincy
Our institutions of higher education have robust sports program — just think of Notre Dame's "Fighting Irish." Holy Cross priests continue to serve as chaplains for our teams, praying with them and helping them keep an eternal perspective as they strive towards the goal of winning and towards the goal of heaven.
Ministries
While the work of Holy Cross began in education and parish ministry, our mission takes across borders of every sort. For the U.S. Province, our mission includes outreach ministries to the poor, spiritual ministries for families, and a Catholic publishing house. Our mission also includes international ministries, where we seek to educate the hearts and minds of people around the globe.
The priests and brothers of Holy Cross serve in educational institutions around the country, where they seek to form the hearts and minds of young people.
The United States Province serves 15 parishes in the United States and one in Mexico, focusing the Congregation's resources on parishes with schools and those that serve the poor.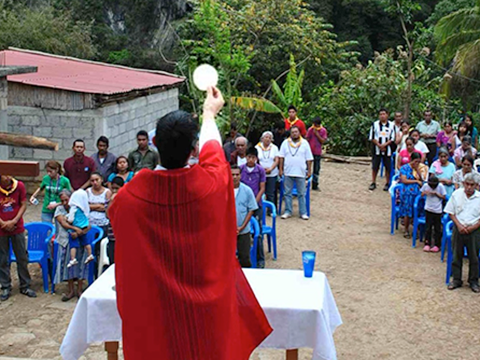 Through our creative missionary efforts, we make God known, loved and served in the United States, as well and around the globe.