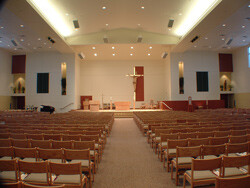 St. John the Evangelist Catholic Church, Viera
"Making God known, loved, and served within and beyond our faith community through worship, education, and action."
It all began in 1987, when the Orlando Diocese purchased 20 acres for a future church on Murrell Road. Fourteen years later, with the church still yet to be built, the Congregation of Holy Cross approached the diocese and offered to provide priests to start a new parish in Central Florida. A new site was selected on Stadium Parkway in Viera and on March 31, 2007, St. John the Evangelist Catholic Church, along with almost 1,600 families, celebrated the first Mass in Holy Cross Hall/The Parish Life Center. Saint John's offers Mass, the Sacraments and many ministries, including social, youth and community outreach, as well as several faith formation programs:
A scripture study group;


Rite of Christian Initiation;


A group that gathers to deepen their faith by applying the Sunday liturgy to their daily lives; and


A study group that applies biblical principles to help people achieve financial freedom.