"Formation, as the Church understands it, is not equivalent to a secular sense of schooling or, even less, job training. Formation is first and foremost cooperation with the grace of God." — Program for Priestly Formation, paragraph 68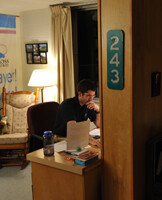 Formation is the process by which a man prepares for life as a priest or brother. Continued discernment is an essential part of formation, since the process gives a man the tools and experience he will need in order to discern well. Formation also helps a man grow into his identity as a priest or brother. The process does not change a man into something he is not; rather, it helps a man become who he really is and who God created him to be.
Our formation programs incorporate the pillars set forth by Saint John Paul II in Pastores Dabo Vobis: human, spiritual, intellectual and pastoral formation. Since we are preparing men for religious life, our programs also emphasize formation for community life and for the vows of poverty, chastity and obedience.
College-age men spend up to three years in the Old College Undergraduate Seminary, which introduces them to religious life and prepares them for Moreau Seminary.
Men who have already completed a college degree begin their formation in the Postulant Program. Here they join men who have completed the Old College Program for a comprehensive overview of the vowed life in Holy Cross.
After their Postulant Year, men move to our Novitiate near Colorado Springs.The Novitiate Year is an intense year of prayer and discernment in which seminarians are removed from the distractions and hectic pace of full-time work or study so that they can focus on deepening their prayer life. At the end of their Novitiate Year, they profess temporary vows of chastity, poverty and obedience and return to Moreau Seminary.
In the Professed Program, a man studying for the priesthood will begin the Master of Divinity Program at the University of Notre Dame, while a brother will begin a program tailored to his unique needs. This program of prayer, study, ministry and other formation activities allows him to develop the tools he will need to serve the Church as a Holy Cross priest or brother.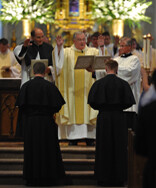 At the end of the Professed Program, he professes perpetual vows. A seminarian is also ordained as a transitional deacon and, after his diaconate is complete, as a priest.
Formation is a long and incremental process. There are many steps along the way so that a man can come to understand his vocation more fully without constantly worrying about "the big decision" of whether or not God is calling him to be a priest or brother. We are committed to forming priests and brothers who are not only competent and zealous, but also dedicated to continual growth in holiness. The Church deserves nothing less.
---
To learn more about the formation for priesthood and religious life in Holy Cross:
Get a broad overview of the formation process by taking a look at this easy-to-read infographic.
Read more about Old College Undergraduate Seminary for college-aged men.
Read more about the Postulant Program at Moreau Seminary for college graduates.
Read and reflect on Constitution 6 on "Formation and Transformation" that describes our program of priestly and religious formation in Holy Cross.
Take a virtual tour of our seminaries.
Meet our men in formation and our seminary staff.
Contact us in the Office of Vocations.