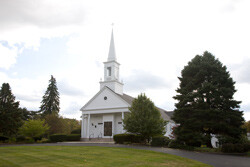 Holy Cross Parish, South Easton
"Committed in faith and love of Jesus Christ to fulfill the profoundly human and spiritual needs of its parishioners and the larger community it serves."
Located in South Easton, Holy Cross Parish is part of the Roman Catholic Diocese of Fall River and a community of approximately 1,300 families. Founded in 1967, the parish seeks to inspire all, through deeds and by example, to do the work of Christ: to make God known, loved and served. Programs and ministries at Holy Cross include:
"Forever Young," which brings seniors of the parish community together for fellowship and enjoyment of each other's company;

"Friends in Faith," which encourages fellowship, social interaction and spirituality among divorced, widowed, separated and single parishioners 40 years of age and older;

"Social Action Commission," which coordinates all the parish's outreach programs, including Birthright, Louison Shelter, MainSpring House, My Brother's Keeper and Womansplace Shelter; and "God's Squad," which is composed of those men, women and teens who have assumed responsibility for the maintenance of Holy Cross Parish.
Visit the Holy Cross Parish Website