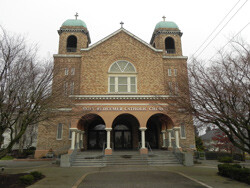 Holy Redeemer Catholic Church, Portland
"Educating through faith. Bringing hope through service. Rooted in Christ."
Located in North Portland, Holy Redeemer Catholic Church was created by Archbishop Alexander Christie on Aug. 13, 1906. The first Mass in the parish was celebrated Sept. 16, 1906, in the Keller Sanitarium. A combination church/school/hall was erected in 1907. In 1927, Archbishop Edward Howard dedicated the current church. Holy Redeemer Catholic Church offers Sunday Masses in both English and Spanish.
Since 2002, the Congregation has also led Holy Redeemer Catholic School, a faith-filled community committed to academic excellence, prayer and service, and the most ethnically diverse Catholic school in Oregon.
Visit the Holy Redeemer Parish Website
---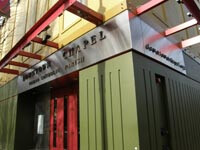 Saint André Bessette Catholic Church, Portland
"Worshiping here is not clean and tidy Catholicism, but a lived reality among people who most need the message of the Church and the healing touch of our friend, St. André Bessette."
Saint André Bessette Catholic Church — formerly known as the Downtown Chapel — is a Roman Catholic parish in the heart of Old Town Portland. Sponsored by the Congregation of Holy Cross since 1989, the mission of the parish is to provide hope and healing to the most marginalized members of society.
Through prayer, service, education and advocacy, the parish has become a vital resource to the neighborhood, as well as the greater Portland area. Dedicated to serving those experiencing poverty and homelessness, the parish's community programs — hospitality center, food pantry and the Br. Andre Café — are dynamic expressions of faith in action.