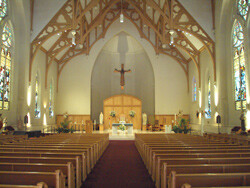 Sacred Heart Saint Francis de Sales Parish, Bennington
St. John the Baptist Catholic Church, North Bennington
"May the Sacred Heart of Jesus be loved everywhere."
Dating back to 1854, Sacred Heart Saint Francis de Sales was the first Catholic church in southern Vermont. Very active in both the community and around the world, the church offers Mercy Meals, a program in which parishioners make and deliver healthy meals to parish families caring for a sick family member.
The School of Sacred Heart Saint Francis de Sales, which includes grades Pre-K thru Eighth, provides excellence in academics and a deepening faith in God and Gospel values, in an environment that is caring, challenging and respectful. The school strives to develop in every student the habits of thinking critically and acting responsibly in daily life.
Sacred Heart Saint Francis de Sales was placed under the direction of the Congregation of Holy Cross in 1958 by Bishop Robert F. Joyce.
Although St. John the Baptist Catholic Church was founded in 1885 by the Sacred Heart of Jesus, documented history indicates that priests from Rutland provided the Sacramental needs of the people in North Bennington and nearby Shaftsbury as early as 1854. The current rectory was purchased by St. John's first pastor back in 1885. The present church was dedicated in 1928. The parish has had a Holy Cross pastor since 2008.
Visit the Sacred Heart Saint Francis de Sales Parish Website