Holy Cross established a presence East Africa in 1958 in response to a general invitation by the Holy See to organize the Church's missionary activities around the world.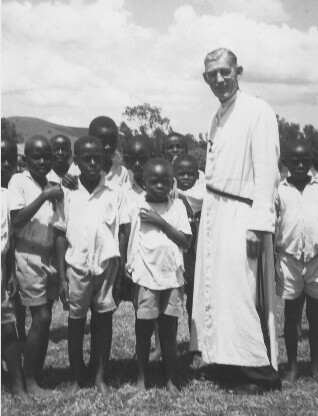 The first group of Holy Cross religious in East Africa was led by long-time missionary Rev. Vincent J. McCauley, C.S.C., who later became the first Bishop of Fort Portal Diocese and whose cause for sainthood was introduced in 2006. The religious settled in the northern portion of the Mbarara Diocese in Uganda, which later became the dioceses of Fort Portal, Hoima and Kasese.
View a 36-minute film on the life of
Bishop Vince
Those four priests were joined a year later by three Holy Cross brothers who worked in schools including Saint Augustine's Teachers' College Butiti, Saint Mary's Minor Seminary and Saint Leo's College Kyegobe.
The political pressures and threats on the lives of our missionaries during the 1970s challenged Holy Cross to rethink its mission priorities. The need to evangelize and support the growth of the Church in Africa prevailed and three important decisions were made in the following years: First, to begin a presence in Nairobi, Kenya; second, to start vocations and formation programs for East Africans; and third, to have the Holy Cross brothers and priests in East Africa work together administratively. This positioned the Congregation to meet the varied and emerging challenges in the region.
Today the District of East Africa includes Kenya, Uganda and Tanzania — a total of almost 27,000 square miles. Our ministries are large and small, rural and urban, but education and parish remain at their heart. Because of the impact HIV/AIDS has had on the region, we also fulfill our mission in East Africa through our parish- run clinics, assisting people with their physical and health needs.
Uganda
Holy Cross Parish (Jinja, Bugembe Community), in eastern Uganda, operates St. Andrew, St. Jude and Holy Cross Primary Schools, along with a HIV/AIDS program run out of the church.
Holy Cross Lake View Senior Secondary School(Jinja) was founded by Rev. Robert Hesse, C.S.C., in 1993 in an abandoned one-room school house. There are now 800 students attending Lake View, which is ranked among Uganda's top schools.
St. Jude Tadeo Parish (Kyarusozi, Fort Portal), in the rural western region of Uganda, operates Kyarysozi Vocational Training School.
St. Josph Hill School was founded in 1996. St. Joseph draws students from the outlying villages of Kyarusozi, Kyembogo and Kasaba. Some of the 400, impoverished students who attend classes at the school walk up to five miles every day to get there.
Nairobi, Kenya
Holy Cross Parish (Dandora Community, northeast of Nairobi) sponsors the Boma Rescue Center, where children can both play and learn; a health clinic; a volunteer counseling and testing center; and a sewing school. The church also provides food and clothing for local residents and helps to rebuild homes of the elderly.
St. James School Nursery and Primary School (Dandora Community) has been in existence for 20 years and expanded in 2000 from a nursery school to add primary levels 1 – 7.
Brother André Dispensary (Dandora Community) treats hundreds of people, young and old, seeking medical assistance each day.
Tanzania
St. Brendon Parish (Kitete) is in the southwestern part of the country on the fringe of Usungu Game Reserve. The parish has operated the Audrey Veldman Vocational Training Centre since 2001 for students who can't afford to go on to the second level (high school). The school provides sewing skills and agriculture training for young men and women.
Lostete Health Care Clinic (Kitete) provides basic medical care to the villagers. The nearest hospital is approximately 30 miles away. The clinic sometimes treats up to 40 patients per day.
Sacred Heart Parish Sombetini, Arusha has around 5,000 members and there are 27 small Christian communities that gather weekly. The parish is known for a history of strong lay leadership, a quality that the Congregation is known for fostering in its parishes.
The newest parish in the Archdiocese of Mwanza, St. Anthony of Padua Parish in Nyasaka-Mwanza, was carved out of Christ the Good Shepherd Parish in Buzulaga, which is under the stewardship of the Claretian Missionaries.
St. Felista Parish in Utegi administers a nursery, dispensary, and a girls' secondary school and offers many more opportunities for growth of the parish ministry, including the establishment of a school ministry as well as Holy Cross Family Ministries. There is also enough land for expansion, as the parish currently has eight outstations that it would like to develop into centers.
Family Rosary International is also present in each of these countries, working to enrich the lives and deepen the faith of thousands of East African Catholics by introducing them to the power of prayer through the Rosary.
Click the links for videos on: