Sometimes, one of the most helpful resources for discovering your vocation is the story of how someone else discovered theirs. It might even reassure you that you are not alone in your own questions and experiences.
Below are reflections from several Holy Cross priests and brothers on their own vocation. Reading through them will give you the opportunity to learn more about Holy Cross and may even help you to learn more about your own vocation.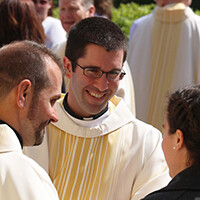 "I go to bed very tired most nights, but I go to bed most nights really grateful for having been able to be a priest today." Fr. Pat Reidy, C.S.C., sat down with the team at Faith ND to record a podcast about his life as a Holy Cross Priest.
---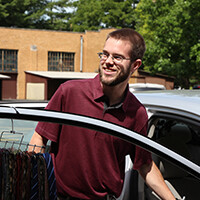 Br. James Henke, C.S.C., knew that he wanted to give his life to the Lord in a radical way. Since he entered formation, he found that the dreams that drew him into Holy Cross have blossomed into a real-life community full of brotherhood and opportunities to serve the Lord in all sorts of unique and beautiful ways.
---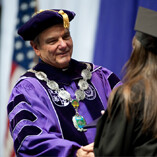 Before entering the seminary, Fr. Bill worked as a college professor, college administrator, businessman and lawyer. Yet, the professional life he was pursuing never seemed totally right, and he felt more and more that he had to look into religious life in Holy Cross. Since joining the Congregation, Fr. Bill has worked primarily in higher education administration, which he has found fulfilling and sacred work.
---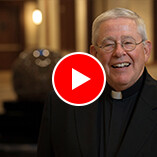 When Fr. Joe Carey moved to Ryan Hall as the priest-in-residence, the move came with a kitchen. Eager to find ways to engage in the community he decided to learn how to bake. Now, residents of Ryan Hall gather in Fr. Joe's kitchen to bake cookies, brownies and other treats, and enjoy time together.
---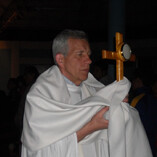 Fr. Don shares how he found himself drawn by the Lord into serving as a missionary in South America. It was not why he came to Holy Cross, yet Fr. Don mentions, "You never know what will happen when you try to follow the Lord."
---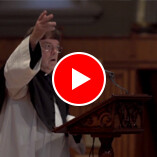 Fr. James Foster, C.S.C., came to the University of Notre Dame as an undergraduate, and decided to study medicine as a way to combine his love of the sciences and his desire for service. Learn how his path led to the priesthood.
---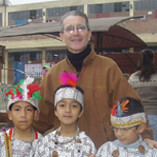 When he began high school, Br. Tom had no plans on entering religious life. Yet in his senior year, a feeling that he was being called to more began to creep in. Following that call to "something more" made all the difference. It led him to a life of unexpected happiness that has made him glad that he did not try to hide from God's call.
---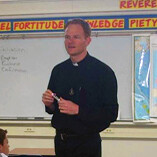 The work of a priest is to lead people to the Truth of Jesus Christ. The work of a teacher is to guide students in the pursuit of Truth. Fr. Greg shares how through his studies he came to discover his vocation as both priest and teacher.
---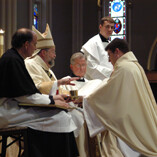 His encounters with priests who were present to him and his own experience of finding joy in service to others inspired Fr. Stephen to answer the call to the priesthood. Read in his reflection how he came to give thanks for the opportunity to become radically available to the people of God.
---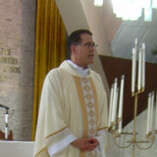 Fr. Paul came to know Holy Cross during his undergraduate years at the University of Notre Dame. He pursued his vocation as a way to live, with gratitude, the gifts God had given him. This led him through an experience in Africa and further studies to becoming one of the Holy Cross priests and professors at Notre Dame.
---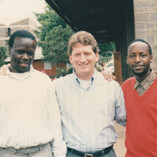 During his undergraduate years, Fr. Russ was drawn into a fuller understanding of the link between love of God and love of neighbor. Following the desire to grow in this love led him to understand his call to the Congregation of Holy Cross. Which in turn led him to many years of service to the people of East Africa and now to formal Scripture studies.
---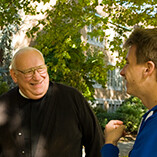 Taught by the Holy Cross Brothers in high school, Br. Donald was inspired by how they were excellent teachers and role models. His vocation as a brother in Holy Cross was confirmed by his time in formation, as he met other like-minded individuals who shared his zeal and energetic spirit to teach. In this way, he came to love Holy Cross, its history and its mission.
---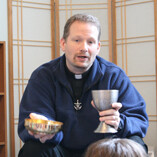 Fr. Neil's path to Holy Cross took him through the study of computer science and several years of working as a consultant. It was the joy that he saw in the life of his brother, who is also Holy Cross priest, that helped Fr. Neil find his home in Holy Cross.
---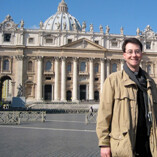 Like many other young men, Fr. Michael wondered how to discover his vocation among the many religious orders and his home diocese. He shares how he learned to trust that God placed him where he was meant to be.