Blessed Basil Moreau, C.S.C.
1799-1873
Founder of Holy Cross
Fr. Basil Moreau, C.S.C.
The Congregation of Holy Cross joyously celebrates the life of its founder, Blessed Basil Moreau, on January 20 every year.
Born Basile-Antoine Marie Moreau (Basil Anthony Marie Moreau in English) in Laigné-en-Belin, in the diocese of Le Mans, France, on February 11, 1799, he would be forever affected by the spiritual upheaval caused by the French Revolution. Church property was seized, priests were executed and arrested and religious communities were expelled from France. Basil Moreau's hope was to fill this vast spiritual and educational gap.
In 1821, Moreau was ordained a priest for the diocese, later becoming a seminary professor, teaching philosophy and theology while enthusiastically continuing his pastoral duties.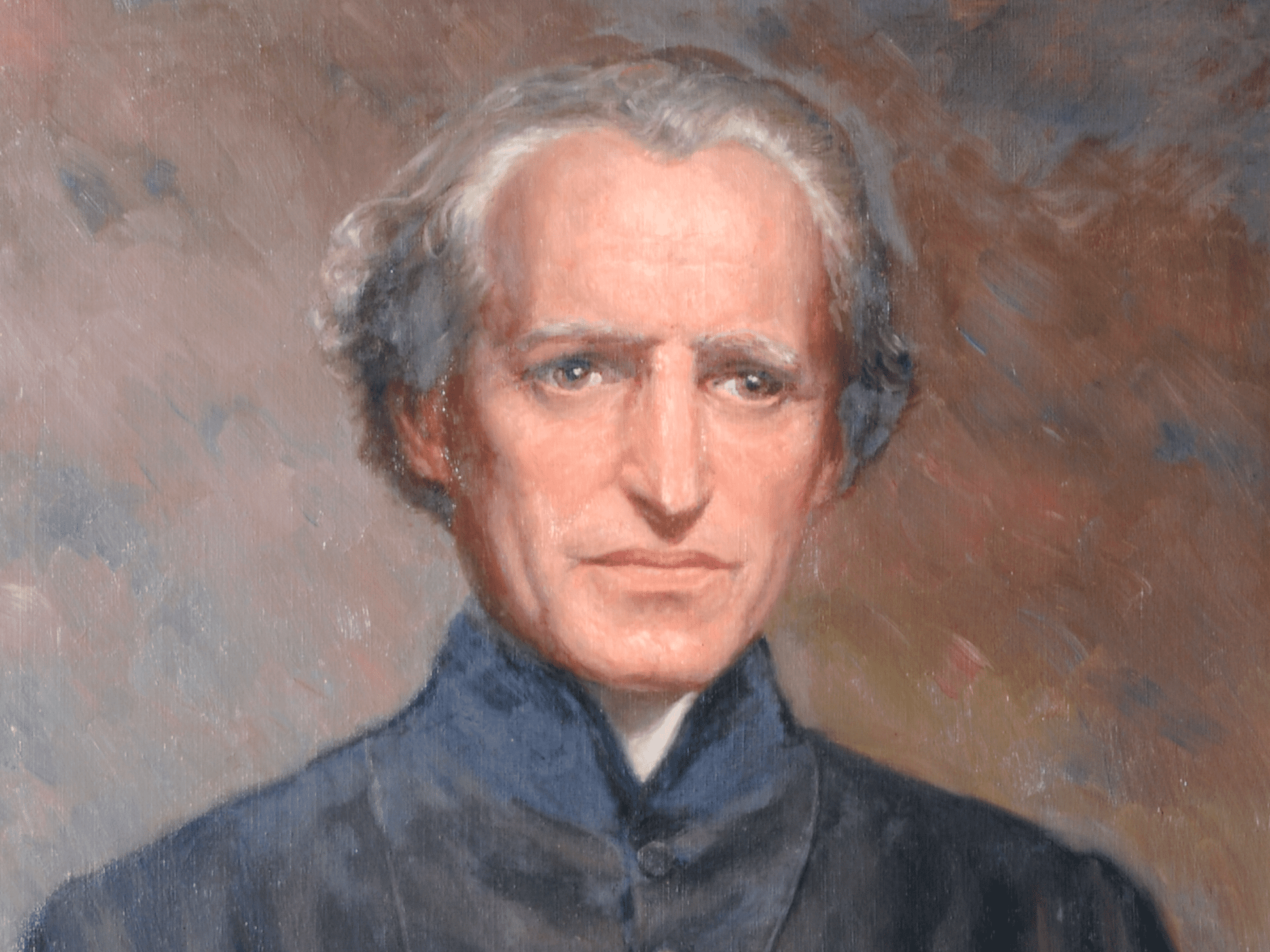 By 1835, Moreau had organized a group of young and energetic "auxiliary priests" whose mission was to travel the diocese, assisting in educational and spiritual growth programs at parishes. That same year, Bishop Jean-Baptiste Bouvier asked him to oversee the Brothers of St. Joseph, a group of educators founded by Rev. Jacques-François Dujarié. Two years later on March 1, 1837, Fr. Moreau merged the priests and brothers and the association took its name from the small French town outside of Le Mans from which it was based, Sainte-Croix. The new order's name became Congregatio a Sancta Cruce (hence the initials C.S.C.), which literally means "Congregation of Holy Cross."
"[A perfect life in Christ] will be a life of devotion to the work of teaching or of any other employment, to punctuality to the common exercises, and to the shunning of idleness … It will be an interior life, elevated to God by the habitual practice of acts of faith, hope, and charity, after the example of Jesus Christ, who is to be the particular model of our conduct … It is absolutely essential for us to lead with our Lord a life hidden in God."
Blessed Basil Moreau, Circular Letter 14
The Cross soon became an integral part of his community's spirituality. The motto of the congregation is Ave Crux, Spes Unica, which means "Hail the Cross, Our Only Hope" — calling on the community to "learn how even the Cross can be borne as a gift."
Blessed Moreau's vision was to complete and maximize the spiritual vigor of this association — to give it "one heart, one soul" — by modeling it after the Holy Family and bringing into it a group of sisters who would also be involved in education and evangelization.
Reflecting his association's zeal to make God known, loved and served, Moreau started sending members to other countries, including Algeria, Canada, Bangladesh and the United States. He sent seven young men — six brothers and Rev. Edward Sorin — to the United States, where in 1842, they founded the University of Notre Dame. In 1857, the Holy See officially declared Moreau's group to be a religious congregation and the Congregation of Holy Cross was born.
Moreau died on Jan. 20, 1873, and was beatified on Sept. 15, 2007.
Portions taken from "Basil Moreau, Founder of Holy Cross" by Gary MacEoin and "The Cross, Our Only Hope" edited by Andrew Gawrych, C.S.C. and Kevin Grove, C.S.C.
Read more about the lives of members of Holy Cross through the years.