(Education) is the art of helping young people to completeness. For the Christian, this means that education is helping a young person to be more like Christ, the model for all Christians.

— Rev. Basil Moreau, C.S.C. (Christian Education)
Campus Ministry at the University of Notre Dame has published a 16-page booklet on Holy Cross founder Blessed Basil Moreau's vision for a Holy Cross education.
The piece explains five elements that define both the religious of Holy Cross and the type of education we provide to students throughout the world:
Mind: Seeking understanding through the integration of faith and reason.
Heart: Discerning our personal vocation in service to the Church and world.
Zeal: Fueling the desire to offer our gifts for the good of all people.
Family: Embracing Christian community as the context for lifelong formation.
Hope: Trusting in the cross and God's promise of the kingdom.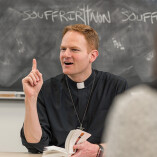 The United States Province has four colleges and universities — the University of Notre Dame (Ind.), the University of Portland (Ore.), King's College (Wilkes-Barre, Pa.) and Stonehill College (Easton, Mass.) — and more than a dozen elementary, secondary and technical schools in the U.S. and abroad. At all levels, Holy Cross strives to educate both the minds and the hearts of students to grow in Christ's love and to use their gifts to make the world a better place.
Read the entire booklet, "Holy Cross and Christian Education," on the ND Campus Ministry website.