This college will be one of the most powerful means for doing good in this country.




— Rev. Edward Sorin, C.S.C., founder of the University of Notre Dame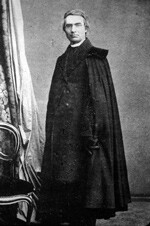 The University of Notre Dame, the Congregation of Holy Cross' first educational institution in the "New World," was founded in the true spirit of Holy Cross' charisms of education, parish and mission. Founder Blessed Basil Moreau's vision was for an apostolic religious community destined to serve the Church well beyond the frontiers of his own country. In 1841, just four years after Fr. Moreau had founded Holy Cross, he sent Rev. Edward Sorin, C.S.C., a young 28-year-old French priest, and seven others to the frozen Midwest of the United States of America.
On Nov. 26, 1842, Fr. Sorin and his Holy Cross brothers took possession of 524 snow-covered acres that the Bishop of Vincennes had given them in the Indiana mission fields and named his fledging school in honor of Our Lady, in his native tongue, "L'Université de Notre Dame du Lac" (The University of Our Lady of the Lake). Sorin followed Fr. Moreau's example of sending out priests and brothers to found other schools and parishes throughout the United States and Canada. On Jan. 15, 1844, the University was officially chartered by the Indiana Legislature.
Notre Dame is rated among the nation's top 25 institutions of higher learning in surveys conducted by U.S. News and World Report, Princeton Review, Time, Kiplinger's, Kaplan/Newsweek and others. The Mendoza College of Business at Notre Dame ranks No. 1 nationally for its undergraduate program and 20th nationally for its M.B.A. program by BusinessWeek magazine in its surveys of top business programs. Notre Dame Law School is rated 22nd by U.S. News & World Report.
Notre Dame is arguably the world's most renown Catholic university and its golden dome stands as both an educational and spiritual beacon to all. Throughout Notre Dame's history, a Congregation of Holy Cross priest has served as president; University founder Rev. Edward Sorin, C.S.C., was the first. Other notable presidents include Rev. Theodore M. Hesburgh, C.S.C., a recipient of the Congressional Gold Medal recognizing him not only for his dedication to Catholic higher education, but also for his critical participation in the U.S. Commission on Civil Rights. Alumnus Rev. John I. Jenkins, C.S.C. is the 17th president and is leading the University during a period of "research renaissance," while maintaining excellence in undergraduate education and serving the Catholic Church.