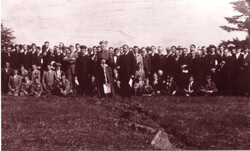 Rev. Alexander Christie issued that challenge to the Congregation of Holy Cross's Indiana Province in 1901, when the University of Portland was known as Columbia. His challenge was accepted, and in September, Holy Cross assumed ownership.
Since then, Holy Cross priests and brothers have served at the University of Portland, carrying out the vision of our founder, Blessed Basil Moreau, C.S.C., to educate the hearts and minds of students. In every endeavor at the university, Holy Cross is helping to shape faithful citizens who will go forth to inspire, lead and improve the world.
Through our own ministries and through partnerships and volunteer efforts in conjunction with the University, the Congregation and University students, faculty and staff are working together to address some of Oregon's most pressing social concerns in enhancing educational experiences and opportunities, decreasing hunger and bridging the divide between urban and rural areas.
More than 100 years after accepting the challenge to provide a "superior education unequaled by any institution on the Pacific Coast," the University of Portland is a vibrant intellectual community of more than 3,000 students and approximately 240 faculty members and is consistently ranked among the top 10 schools in the West by U.S. News and World Report.
Rev. Mark L. Poorman, C.S.C., is the 20th Holy Cross president of the University of Portland. Fr. Poorman officially took office on July 1, 2014, succeeding Rev. E. William Beauchamp, C.S.C. Fr. Poorman had served as executive vice president at Portland since 2011. He is a professor of theology, teaching courses in Christian ethics and moral theology, and he was instrumental in the formation of the Dundon-Berchtold Fund for Moral Development and Applied Ethics, which includes the Character Project and the Dundon-Berchtold Fellowships for students and faculty to explore ethics-related issues. Until he assumed the presidency, he served as pastoral resident in Schoenfeldt Hall.