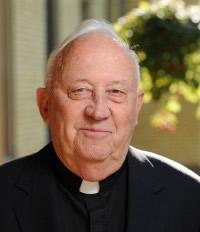 Rev. Robert S. Pelton, C.S.C., is featured in a television news story about Pope Francis I.
Fr. Pelton, Director Emeritus of North American/Latin American Church Concerns at the University of Notre Dame, said that Pope Francis will be able to connect, not only with Latin Americans, but Catholics throughout the world. Fr. Pelton said the former Argentinian Cardinal is authentic in his values vocal on social justice issues.
Real more about Fr. Pelton's interview on WSBT-TV.