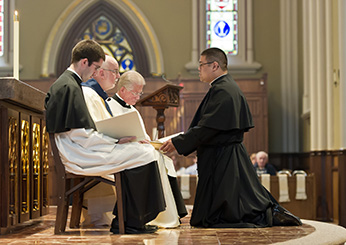 Preparing for the Rest of My Life, and Beyond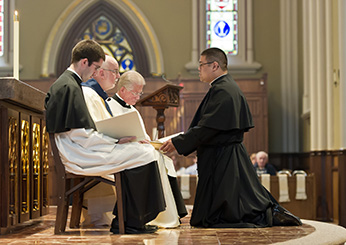 On September 7th, I will profess forever the vows I currently live temporarily, one year at a time, pledging my willingness to live and to die as a religious of the Congregation of Holy Cross. The next day, on Our Lady's Birthday, my ordained life will come to birth as I'm ordained a deacon, a servant of the Gospel and co-worker with the bishops and priests of the Church. As these final weeks of waiting tick down, how am I getting ready?
A lot of the preparation is done. Soon after graduating from Notre Dame's M. Div., my classmate Pat Reidy, CSC, and I went on retreat together, directed by Fr. Dan Issing, CSC, a Holy Cross priest who teaches at King's College. During that week, we delved into the movements of the Spirit in our lives that our Constitutions sum up by simply saying: "We heard a call to give over our lives in a more explicit way."
We remembered and understood more deeply those experiences of call, of being summoned by God, that have brought us here. We looked to the future and tried to discern what practices would allow us to grow in the theological virtues and live out our vows in a fully evangelical way. We shared fraternity, in prayer and at table, and we rested and wrestled with God in solitude. We came away re-convicted of the gratuitous saving action of God in our lives and ready to profess our dedication and our vows with a renewed awe at the mystery we'll be embracing.
We've planned our liturgies, picking readings and music that will move our hearts, and those of our guests, to a form of praise and thanksgiving which resonates with this moment. The readings will take us from the challenging call of God in 1 Kings 19 to the friendship with Jesus which sustains us in our response in John 15. The music incorporates the joyful exuberance of "All Creatures of Our God and King" and the willing sacrifice, the losing of our lives that we might find them in Him, of Dan Schutte's "These Alone Are Enough."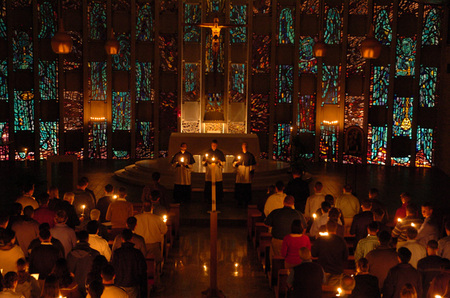 We've invited readers, servers, and a preacher for Lucenarium (Night Prayer) , assembling a diverse range of priests, brothers, seminarians, lay classmates from the M. Div., and Notre Dame professors who have been important in our road to this point. The invites have gone out for our guests: friends, family, and co-workers who we want to celebrate with us. The menus have been planned, and new habits have arrived from the tailors. We are pleased to not yet have been consulted concerning table center pieces!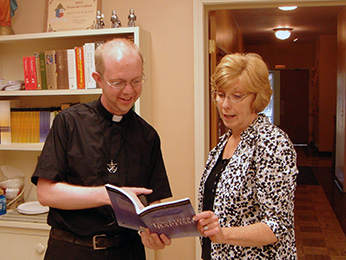 We've also started work. I'm at Holy Cross and St. Stanislaus parishes in South Bend for the year. Pat will be a dorm rector. With our parish school and the programs I'll be involved with on summer break and—needing to wait until diaconate ordination to get started on most of the liturgical work I'll be doing—I've been concentrating on getting to know people and on getting known. The highlight, strange as it may seem, of my time here so far has been being involved in some funerals, and presiding at a wake service. To comfort the grieving, bury the dead and pray with Easter hope is not just Christian duty, but an immense privilege. My most important preparation for the coming milestones has been my time spent with the dead: those of our parish and those in Holy Cross's community cemetery. I am reminded of and reconnected with the God who wipes away all tears and holds me tight as he bids me extend a hand of comfort. I become more conscious of my own mortality and the great gift of everlasting life which alone gives my life meaning. I look around our community cemetery and realize most fully who I am: I am to rest here, with my brothers.
Mr. Adam Booth, C.S.C., is in his final year of temporary vows and is assigned to Holy Cross and St. Stanislaus Parish in South Bend, Ind. He and his classmate, Mr. Parick Reidy, C.S.C., are preparing to profess Final Vows at the Basilica of the Sacred Heart on Saturday, September 7, at 10:00a.m. (EDT). The Final Vows Mass will be streamed live on the Internet at http://ndprayercast.org. Learn more about the religious vows of poverty, chastity, and obedience in the Congregation of Holy Cross.