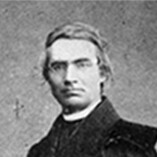 On the afternoon of August 15, 1840, Fr. Basil Moreau, C.S.C., the founder of the Congregation of Holy Cross, made his profession of perpetual religious vows to Bishop Bouvier. Later that evening, Moreau received the religious vows of four priests who committed their lives forever to the community and mission of Holy Cross. One of them was Fr. Edward Sorin, C.S.C.
When he was still a seminarian, Sorin first met Fr. Moreau, who was a young, charismatic professor at the Major Seminary in Le Mans, France. Fr. Moreau's zeal for the faith and evangelization inspired the young Sorin. And so after his ordination to the priesthood on May 27, 1838, Fr. Sorin joined the Auxiliary Priests that Fr. Moreau was forming to preach parish missions and retreats.
Like Fr. Moreau, however, Fr. Sorin's vision of the mission extended beyond the Diocese of Le Mans, and so in 1841, at the young age of 27 and only one year after his profession of perpetual vows, Fr. Sorin accepted the assignment from Fr. Moreau to lead a group of Holy Cross religious to the United States to found a school in the mission Diocese of Vincennes, Indiana.
After spending one year at St. Peter's in the southern part of the diocese, Fr. Sorin and seven of the brothers arrived on November 26, 1842, to 524 snow-covered acres near South Bend, Ind. There Fr. Sorin and the brothers founded a new school in honor of the Mother of God, L'Université de Notre Dame du Lac (The University of Our Lady of the Lake).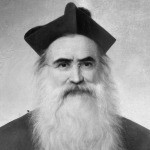 Creative and deliberately immersed in the ideals of his new homeland, Fr. Sorin was a man of action and an entrepreneur on behalf of the gospel. In just over a year, at a time when anti-Catholic sentiments still ran high in the country, he had secured for his fledgling, a one-room school and an official university charter from the Indiana State Legislature. Fr. Sorin clearly was dreaming big, as he revealed in a letter to Fr. Moreau, believing that Notre Dame would become "one of the most powerful means for doing good in this country."
Part of what enabled Fr. Sorin's vision for Notre Dame to become a reality is that, like Fr. Moreau, he had an unwavering trust in Divine Providence, even to the point of believing that the cross was our only hope. As a result, in 1897, a fire destroyed the Main Building, which at that point constituted virtually all of the university, Fr. Sorin told the Holy Cross community, "I came here as a young man and dreamed of building a great university in honor of Our Lady. But I built it too small, and she had to burn it to the ground to make the point. So, tomorrow, as soon as the bricks cool, we will rebuild it, bigger and better than ever."
Fr. Sorin also shared Moreau's apostolic zeal, his "burning desire to make God known, loved, and served, and thus save souls." While serving as the first president of the University of Notre Dame, he also oversaw the mission of Holy Cross in the United States and its establishment of new foundations across the country, including what would become St. Edward's University in Austin, Texas.
Also, against the advice of many others, Fr. Sorin in 1865 founded a new Catholic magazine that he entitled Ave Maria. Almost 150 years later, Ave Maria Press continues as part of the missionary outreach of the United States Province of Holy Cross.
As much as Fr. Sorin then was a spiritual son of Fr. Moreau, the two also had their share of disagreements, including over the founder's desire to assign Fr. Sorin to a new mission in East Bengal. Ultimately, the two men, both bright, young, devoted, and energetic, reconciled, and their spiritual writings reveal a continuity that forms the foundation of the Holy Cross tradition.
After a financial crisis and other structural problems led Fr. Moreau to resign his position as Superior General of Holy Cross, Fr. Sorin eventually succeeded him in 1868 as the third Superior General of the Congregation. Until his death in 1893, Fr. Sorin guided the congregation out of its financial and organizational crises and placed it on a solid footing so the charism first gifted to the Church through Fr. Moreau might continue to educate future generations in the faith.
To learn about Fr. Sorin's journey to Notre Dame, check out this article from the Summer 2017 edition of ND Magazine.